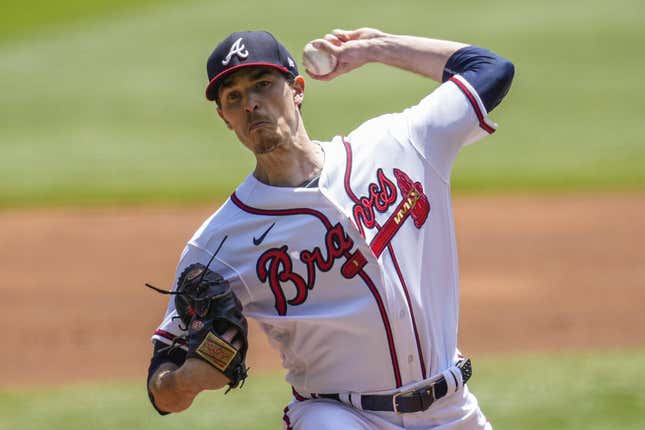 The Houston Astros completed the three-game road series sweep of the Atlanta Braves on Sunday, thanks to their third straight comeback effort in a 5-2 decision
Air Jordans are more American than McDonald's French fries | Deon Cole's Ultimate Sports Fantasy
After being held scoreless through seven innings, Houston broke through in the eighth when Yordan Alvarez continued his standout series with a two-run single that tied the game. Alvarez opened the series with a tiebreaking two-run homer in the ninth inning on Friday, and hit a two-run blast that put Houston ahead to stay in Saturday's win.
The hit scored Jake Meyers and Mauricio Dubon, who each singled to get aboard preceding Alvarez's pivotal single. Meyers went 2-for-3 on the day.
For Dubon, the eighth-inning at-bat extended his hitting streak to 17 games, the longest active run in the majors.
Houston then took the lead in the ninth inning when Corey Julks drove in Kyle Tucker on a two-out single to center off Atlanta reliever A.J. Minter (1-2), who took the loss with three earned runs in an inning.
Danny Young replaced Minter but after hitting Dubon with a pitch, he gave up a single to Alex Bregman that scored David Hensley and Julks, effectively blowing the game open.
Braves starter Max Fried went 6 2/3 scoreless innings with three hits, three walks and five strikeouts
Bryan Abreu picked up his second save for Houston despite a rocky start to the ninth inning. He walked Austin Riley and hit Ozzie Albies with a pitch, bringing up Eddie Rosario representing the tying run with no outs.
Abreu forced Rosario into a double play and then struck out Sam Hilliard to conclude the series.
Hector Neris (2-1) picked up the win after a scoreless eighth inning. Astros starter Cristian Javier allowed three hits and one earned run with 10 strikeouts and two walks in six innings of work
Kevin Pillar broke a scoreless tie in the fifth inning with a solo home run, his first of the season. Atlanta tacked on another score in the sixth when Ronald Acuna Jr. hit a leadoff double, and after a Matt Olson walk, Riley's fielder's choice led to a Dubon throwing error on which Acuna scored.
--Field Level Media