Kansas City Royals pitcher Yordano Ventura has made four starts this season, and he has yet to leave one under his own volition. His first two starts have been cut short by cramping muscles, and the last two have been derailed by ejections. If there's one thing that's so far defined Ventura's 2015 campaign, it's his proclivity for starting some shit.
During his second start, Ventura got into it with Mike Trout after a play at the plate, in the delightful moment pictured above. Ventura, who could share clothes with Pedro Martinez, looks like he'd like nothing more than for Salvador Perez to get out of the way and let him at the hulking Trout. And Trout, who probably drinks health shakes that contain more protein than is housed in Ventura's entire body, can't even believe that this is really happening. You can't blame him! There really was no good reason for Ventura to get in Trout's face, other than the fact that Trout hit a single back up the middle. See for yourself:

This is just how Ventura gets down. He'll mouth off and clear the benches just because a guy got a hit off him and, like, maybe looked at him funny.
Ventura's next act of aggression wasn't quite so out-of-the-blue. The day after A's third baseman Brett Lawrie started a scuffle with a hard slide into second, it fell on Ventura to dish out some comeuppance:
G/O Media may get a commission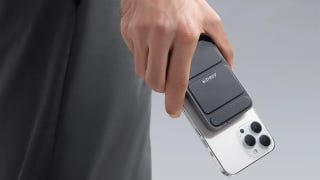 15% off
15% off Anker Top Ten Products
Take charge
Treat yourself to a portable power bank, a magnetic wireless battery for iPhones, or even a solar generator. There is a reason these are in the top ten. For instance, the Anker 747 Power Bank is a 4-in-1 charger utilizing USB-A and USB-C to be capable of charging up to four devices at once. Great to take with you when traveling and in need of keeping your phone, laptop, and even Nintendo Switch powered on.
A less feisty pitcher might have simply carried out his unwritten duty and accepted his ejection without causing too much of a scene, but look at lil-ass Yordano trying to run up on Brett Lawrie, who is basically a walking deltoid. No man as small as Ventura should ever go seeking a confrontation with someone built like Lawrie, and yet here we are.
And that brings us to last night's brawl with the White Sox, which Ventura sparked for reasons that remain unclear. It seems like Adam Eaton may have taken issue with Ventura quick-pitching him, but a pitcher running down a guy on the base path to scream obscenities at him and start a fight isn't something that's often seen in games that do not feature peak-cycle Roger Clemens.
All of this posturing and yapping would be a lot harder to tolerate if Ventura weren't so damn good. He regularly touches 100 mph with his fastball, and when his other pitches are on he's got some of the best stuff in the game. It's hard to watch him throw and not think of Pedro Martinez, whose aggression and small-man syndrome were a key components to his on-field dominance. Part of what makes Ventura such a great pitcher is that he plays angry, and so it's not surprising to see that anger overcome him now and then.
In his postgame interview last night, he didn't come off as petulant or like a guy who has a rage problem. He was calm and collected and readily acknowledged that he gets too hot sometimes and just needs to learn to control himself better. Maybe that's all a front and he really is just a tremendous, raging dick, but at least he's an entertaining dick. And in his defense, he's just 23 years old.
Either way, I think everyone can appreciate the great photo ops that Ventura's outbursts have led to. Look at these photos of Salvador Perez treating Ventura like a lil' baby bear who needs to be protected from danger and try not to smile. You can't!
Photo by Jamie Squire/Getty
Photo by Christine Cotter/AP
Photo by Christine Cotter/AP
Photo by Harry How/Getty
Photo by Harry How/Getty