So... we would be remiss if we didn't note at some point before opening night how bad the Los Angeles Lakers are, or at least appear to be.
Because by appearances, they are the worst.
Thursday night in Shanghai, the Lakers lost an exhibition to the Golden State Warriors by 26 points. The scoreline doesn't much matter; you can't judge a team by how badly they get beaten in preseason, because in preseason no one is trying, and players who shouldn't—under any circumstances—play, do. Still: holy shit, that roster.
There's a diminishing Pau Gasol, and everybody else. Dwight Howard has been replaced with Chris Kaman. Steve Blake looks set to get an even more expanded role under nonagenarian Steve Nash, who was a defensive catastrophe even before he tragically lost the use of both of his legs. Head coach Mike D'Antoni is still shuffling lineups around, but somehow, it looks like Shawne Williams has a part to play in his system. Then you have guys like Nick Young, Jordan Hill, and Jodie Meeks. I mean, look at the photo again. Are you kidding me?
G/O Media may get a commission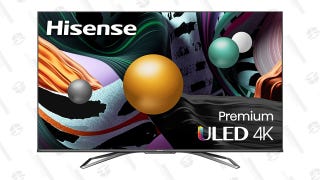 Save $350
Hisense ULED 65" Android 4K HDR Smart TV
This is a squad of role players and castoffs, awkwardly long players who are still too small, a smallish team that is still too slow, and an oldish team that is still unskilled. And missing, for now anyway, is Kobe Bryant.
After rupturing his Achilles in April, Bryant is closing in on a return sometime between the Lakers' opening day on October 29 and Thanksgiving. No one would expect a 35-year-old man to be able to recover in months and immediately recommence dominating the league. But this is Kobe we're talking about. He's one of the best players of all time, and beyond that, he's one of the best athletes of all time. He's also a stubborn son of a bitch.
We've watched him convince himself for half his natural life that he could play through broken fingers, torn wrist ligaments, a bad back, rolled ankles, and a litany of other injuries, and still play at a high level. Along the way, we started to believe him. But the Achilles is different. It's the largest tendon in the body, and Bryant is one of the league's oldest players now. He can't and won't carry a team this bad through the playoffs. At best, they'll save face, maybe creep in as an eighth seed. If Kobe returns, and isn't as good or even better than he was last season (when, absurdly, he crept up and resembled his prime), this could be a lost season for the Lakers. And that's a good thing.
Because the 2014 offseason is going to be absolutely foolish. LeBron James, Carmelo Anthony, Chris Bosh, Luol Deng and DeMarcus Cousins may all be available next year through free agency. Then there's the draft, which will be filled with potential franchise-turning talents Andrew Wiggins, Marcus Smart, Jabari Parker, and Julius Randle. And next year, for once, the Lakers will have their first-round pick. These are still the Lakers, and while the shine will fade a little this year, LA is still a righteous throne to inherit. Any of those free agents could partner up with Kobe for one last run, and if the Lakers suck sufficiently enough this year, a lottery pick could be waiting in the wings to take over after he's gone. Providence has always found a way to prop up this team.
The Lakers could be sad this season. And now, they are at an impasse. Because this is Kobe we're talking about, a player and talisman every bit as great as he is obstinate. And though he's closer than most, he's not superhuman, which is to say that not even Bryant, not even on two good Achilles, could take the worst Laker's team we've seen since Rudy Tomjanovich and William Henry Parker, and lead these poor souls to and through the playoffs. But he's going to try.
And therein might lie the problem. It seems that the Lakers have two options this year. One is to suck, really suck, maybe even purposely suck, and battle it out with the Charlotte Bobcats or Orlando Magic for one of the best prospects we've seen since King James himself. The other is to suck, really suck, but suck with heart and dignity for the right to play four more games in late April. Bryant will fight for the latter, and through some alchemy of modern medicine and painkillers and sand, he might even succeed. We've seen him do it. But only in the NBA can hope spring from the gloomy depths of a .293 season. And so as Bryant attempts to drag this sorry squad through the season, it's worth asking, quietly of course, whether the Lakers' only hope is maybe getting in the way of something greater, something more important, something more permanent.