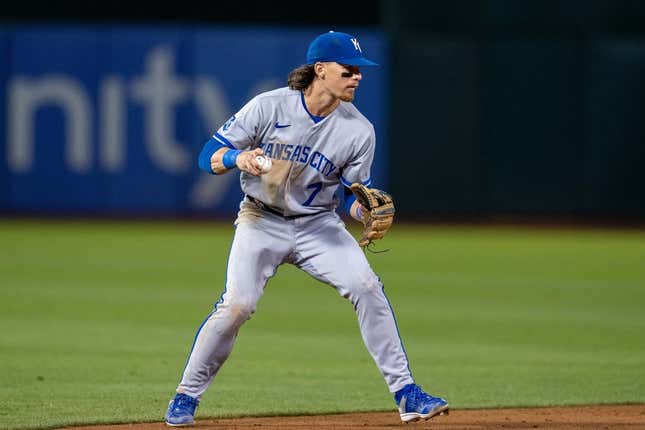 Two of the American League's best young middle infielders go head-to-head for a second consecutive game when Bobby Witt Jr. and the Kansas City Royals get a rematch with Zack Gelof and the host Oakland Athletics on Tuesday night.
How running an NFL team is like running a restaurant | Chef Emeril Lagasse
Both Witt and Gelof contributed a historic home run to the series opener on Monday before Oakland's Brent Rooker launched a walk-off, two-run homer in the ninth for a 6-4 win.
The A's, who have the worst record in the majors, have beaten the Royals in three of four meetings this season.
Witt's homer was his 25th of the season. The 23-year-old has 45 in his two-year career, and he equaled his 2022 RBI count with his 80th on Monday.
An early-season disappointment who hit just .222 in March/April and .234 in May, the star shortstop has rapidly improved to .280 in June, .327 in July and now .375 in August.
Seven of his home runs have come in 19 games this month.
Witt joined Barry Larkin (1996), Alex Rodriguez (1998), Jimmy Rollins (2006, 2007) and Hanley Ramirez (2007, 2008) as the only shortstops ever to have at least 25 homers and 35 steals in a season.
"It's kind of more motivation just to try to keep those things going," Witt said after the loss. "You can, I feel like, be on the list, but you just got to keep doing it and stay consistent."
The homer was his second in three games against the A's this season. He had just one homer in six games vs. Oakland last season.
Exactly which A's starting pitcher will be facing Witt to begin the second game of the series isn't expected to be announced until Tuesday.
Meanwhile, the Royals have slated left-hander Angel Zerpa (1-1, 6.08 ERA) to make his second consecutive start after four straight relief appearances following his promotion to the big leagues earlier this month.
The 23-year-old got a no-decision in a 6-4 loss to the Seattle on Thursday despite holding the Mariners to one run in four innings with six strikeouts.
The third-year major-leaguer has never faced the A's.
Seeing new faces hasn't been a problem for Oakland's Gelof, who on Monday became the fastest player in A's history to reach nine home runs in a career. He has played in just 32 big-league games.
The rookie second baseman has reached base in 18 straight games, a stretch that includes a pair of four-hit games. His batting average has risen from .218 to .304 over the stretch.
"This kid comes to play every day," A's manager Mark Kotsay said after the Monday win. "He continues to set records here, open eyes and make a statement that he belongs. Not only that he belongs, but wants to be here for a long time and lead these guys.
"The way he goes about his work, the quiet leader he's becoming, it's something I enjoy watching."
Gelof faced the Royals for the first time in his career on Monday. He had yet to be promoted from the minors when the A's visited Kansas City for three games in May.
The 23-year-old made his major league debut on July 14.
—Field Level Media