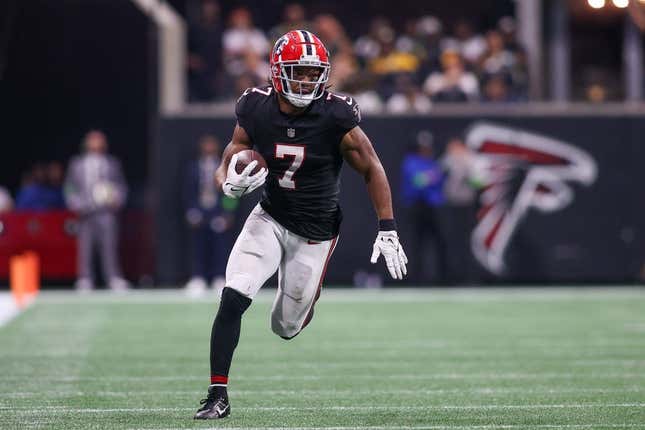 Following a 25-24 comeback win over the Green Bay Packers, the Atlanta Falcons have a chance to do something they haven't done since 2017: open a season 3-0.
How running an NFL team is like running a restaurant | Chef Emeril Lagasse
If the Falcons go to Detroit and defeat the Lions — just as they did in Week 3 of that 2017 season — it will mark just the seventh time in 58 years that Atlanta has started a campaign with three wins.
Rookie running back Bijan Robinson, second-year quarterback Desmond Ridder and the Falcons' talented young core on offense are a big reason for Atlanta's hot start.
Robinson, as explosive a runner as they come, rushed for 124 yards on 19 carries in the win over the Packers. The No. 8 overall pick added four catches for 48 yards, proving his unique ability as a runner and receiver out of the backfield.
"There is a reason why we drafted him as high as we did, the same with (tight end) Kyle (Pitts) and (wide receiver) Drake (London)," Falcons head coach Arthur Smith said Monday. "All of them had impacts and we hope Bijan can continue to do that and keep improving. There are plays he makes that he's very natural at, but that kinda takes the credit away from how hard he works."
Ridder played arguably his best game as a pro against Green Bay. In his sixth NFL start, Ridder completed 19 of 32 passes for 237 yards and a touchdown. He also had 39 yards on the ground and scored on a crucial 6-yard run early in the fourth quarter, which sparked a 13-0 Falcons run to close the game.
"You saw some of that last year with him, and that was a thing you liked about him. He can extend plays," Smith said of Ridder's progression in and out of the pocket.
"Sometimes it wasn't necessarily the protection, it was he felt the lane, and he's got enough speed that if he takes the lane he can make the play."
Ridder also threw his first career interception, but Smith still praised his young quarterback for coming through late in the game.
"He's a winner," Smith said. "The guys believe in him. You can see it in their eyes in critical situations, he's at his best."
After not catching a pass in the season opener, London, a second-year pro, had team highs in receptions (six) and yards (67) against the Packers. His 3-yard touchdown reception late in the second quarter helped trim Green Bay's lead to 10-9 at halftime.
Second-year tailback Tyler Allgeier has played his new role to a tee after setting Atlanta's franchise rookie single-season rushing record with 1,035 yards. Allgeier (5-foot-11, 220 pounds) and Robinson (5-11, 215) are almost identical in size and the two are complementing each other in the Falcons' hard-nosed rushing attack.
The Falcons head to the Motor City Sunday to take on a Lions team (1-1) coming off a 37-31 overtime loss to the Seattle Seahawks.
"We know we have a tough challenge going on the road to face Detroit, who lost a tough one in overtime last week," Smith said. "I'm sure the place will be rocking. We're going into a foreign environment so I'm sure it'll be loud, a lot of energy in the building, so we will need to be ready to roll."
Outside of veteran quarterback Jared Goff, Detroit, like Atlanta, is also a young team offensively, especially at the skill spots.
First-round pick Jahmyr Gibbs has 14 carries for 59 yards and nine receptions for 57 yards this season. Starting tight end Sam LaPorta, a second-round pick, has 10 receptions for 102 yards to open his rookie year.
Third-year pros Amon-Ra St. Brown and Penei Sewell are arguably the Lions' two best players. In Detroit's first two games, St. Brown has tallied 12 receptions for 173 yards and a touchdown as the Lions' top wideout. Sewell started at right tackle last year but moved to left tackle last week in place of Taylor Decker (ankle).
—Falcons all-purpose back Cordarrelle Patterson (thigh) and cornerback Jeff Okudah (foot) did not play for the second straight game. Both players were limited in practice last week.
Smith said the team escaped basically injury-free in the win over the Packers.
"Nothing major, just some bumps and bruises," Smith said. "It was a physical game but nothing really of any concern."
—Robinson ranks second in the NFL in rushing behind San Francisco running back Christian McCaffrey. Robinson has 180 yards on the ground in two games and is averaging 6.2 yards per carry on 29 attempts.
—Field Level Media