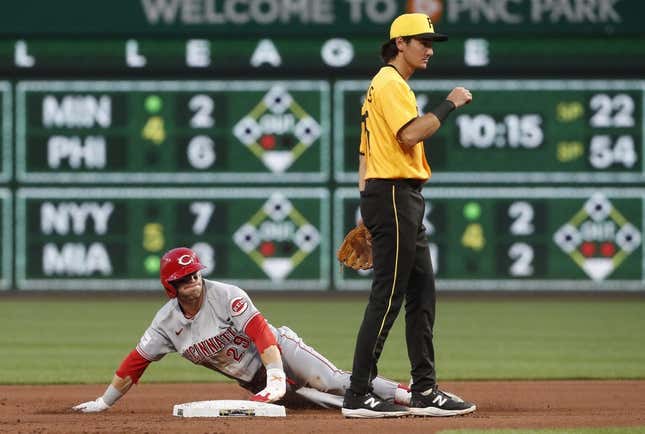 The Pittsburgh Pirates might be experiencing a letdown against the visiting Cincinnati Reds
How running an NFL team is like running a restaurant | Chef Emeril Lagasse
After a series-opening 9-2 loss to Cincinnati on Friday, Pittsburgh hopes to even the set on Saturday night against their National League Central rivals
The Pirates, well under .500 and using a lineup full of young players, had the adrenaline flowing during a tightly played four-game series this week against the top team in baseball, the Atlanta Braves. Pittsburgh split that series, with every game decided by two runs or less
Cincinnati, also brimming with young players, is in contention in the division but came to town struggling, having won only one of its past nine games
The Pirates' offense, which scored 25 runs against the Braves, fell flat Friday in the series opener. Pittsburgh produced just six hits and had only two at-bats all game with runners in scoring position
Pirates manager Derek Shelton said he still likes the matchup of the youthful teams
"I think if you're a fan of the game, you're seeing exciting young players that are now in the big leagues and getting an opportunity to play -- and that's good for the game," Shelton told AT&T Sportsnet
"The Reds are very similar to us in terms of they have a lot of young players who are getting a lot of opportunities.
Cincinnati got the much-needed win Friday, but that doesn't mean all is well all of a sudden
The Reds made a shake-up move before Friday's game, sending infielder/outfielder Nick Senzel to Triple-A Louisville
"Nick's been with us a long time. He's been an important part of the team and helped us win a lot of games," Cincinnati manager David Bell said of Senzel, the second overall pick in the 2016 amateur draft who had been in the majors since 2019
But Senzel, 28, was hitting just .219 in 80 games and had played himself out of a role as the Reds struggled
"It got to the point where Nick wasn't going to be playing much over the next 10 days or so, primarily because he starts against left-handers and there aren't a lot of left-handers coming up on the schedule," Bell said. "So we made the choice to send him to Triple-A to get regular at-bats and get back on track.
On Saturday, Cincinnati will go with a left-handed starter for the second straight game, Brandon Williamson (4-2, 4.54 ERA), while Pittsburgh is expected to start right-hander Andre Jackson (0-0, 5.16)
Williamson, who has never faced the Pirates, will make his 16th career start and appearance. Over his past seven starts, he is 3-1 with a 3.19 ERA
Most recently, he picked up a win -- the Reds' only one in the nine games preceding the Pittsburgh series -- Monday against Miami, giving up one run and three hits while striking out a career-high nine with no walks in 6 2/3 innings
"That probably was the best start of my life, honestly, because what you do in High-A, college or high school doesn't really compare to what you do in the big leagues," Williamson said
The choice of Jackson, not announced until after Friday's game, would indicate the Pirates are going with a bullpen game
Jackson, who has never faced the Reds, was acquired from the Los Angeles Dodgers in June and was sent to Triple-A Indianapolis. He has been impressive since being called up last week
In two relief appearances, he has retired all 15 batters he has faced, with seven strikeouts and no walks
--Field Level Medi