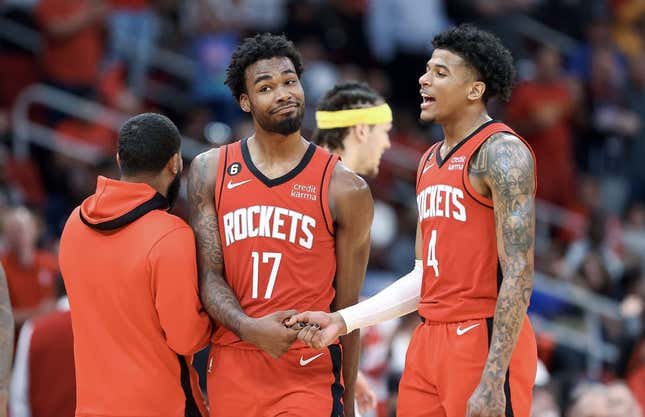 Viewed in a vacuum, there is very little to take from the Houston Rockets winning a pair of meaningless games down the stretch of a season in which they have the worst record in the Western Conference
'Soccer fandom is full of gatekeepers' says Ted Lasso actor Brendan Hunt
However, for a franchise that has fielded one of the youngest rosters in the league, one that has tried desperately to establish a foundation for the future with those youngsters, every victory is welcome.
With their 112-109 road win over the Charlotte Hornets on Friday, the Rockets (21-60) were victorious for the third time in four games and set the table to end the season with a three-game winning streak -- which would match a season high -- should they defeat the host Washington Wizards on Sunday
Against the Hornets, the Rockets showed what has been their calling card of late. All five starters scored in double figures, paced by the backcourt of Jalen Green and Kevin Porter Jr., both of whom tallied 26 points while shooting a combined 16 of 35 overall
An egalitarian approach to offense has served the Rockets well, and what has become clear during the second half of this season is their willingness to play together and share the wealth
"We've shown that we have chemistry together, we've shown that we play well together," Green said. "And everyone is doing their part, the whole starting five when they're in. We just build off each other. We're ending the season right, going with some momentum going into next year."
One of the Rockets' building blocks is second-year center Alperen Sengun, whose scoring skill and deft passing often overshadow his workmanlike approach to rebounding. Sengun, averaging 9.0 rebounds this season, grabbed a career-high 21 boards in Charlotte, including 16 on the defensive end
"It's funny," Rockets coach Stephen Silas said. "All season we've talked about his offense and where he catches the ball and how he can help other guys play well, his scoring and whatnot. The defensive rebounding, it's nice to talk about it.
The Wizards (35-46) snapped a four-game skid with their 114-108 win over the visiting Miami Heat on Friday and would need a victory over Houston to earn consecutive wins for the first time in more than a month
Washington was without four starters and five rotation players yet uncovered a means to fend off the Heat, a welcome turn of events for a team that once harbored playoff aspirations before 11 losses in 16 games last month effectively put an end to a play-in tournament drive.
While the Wizards' core of Bradley Beal, Kyle Kuzma and Kristaps Porzingis is comprised of established veterans, this stretch run has allowed younger prospects to get playing time. Rookie guard Johnny Davis has played just 27 games with the Wizards this season, with 14 of those coming in the past three weeks. He has reached double figures in five consecutive games while averaging 16.4 points in an effort to salvage what's been a lost rookie campaign
"I've got a lot of vets in my ears all the time just letting me know to stay confident in myself, believe in myself and trust the work that I put in," Davis said.
--Field Level Media