Young Thug's The Barter VI met with mixed reactions when it surfaced online a week ago, a seeming anti-climax after months of snowballing hype and controversy. All things considered, the album is a bold move for Thug, counterintuitive as it may seem for such a low-key project. But his fans' initial ambivalence isn't so surprising, given that 22-year-old Jeffrey Williams spent much of 2014 proving his worth as a hit-maker—not only climbing to No. 47 on the Billboard charts as a solo artist (via "Stoner"), but scoring hits with Rich Homie Quan as a member of Rich Gang ("Lifestyle" got to No. 16), and providing hooks and verses for T.I. ("About the Money," No. 42), and Tyga ("Hookah," No. 85). Whereas The Barter VI pulls all of its pop punches, upending expectations: The production is spare, choruses often mesh with verses, and Thug's rapping is the tape's sole focal point. This aesthetic left turn, combined with one of the messiest rollouts in rap history (just Google "Lil Wayne" + "lawsuit"), makes it easy to understand how the album might initially leave listeners vexed. But dig a little deeper: There's more to it than its placid demeanor.
On The Barter VI, Young Thug and his producers—Wheezy, Kip Wilson, and London on the Track—cultivate a sound even more minimal than the pristine feel of Tha Tour Part 1, last year's audacious Rich Gang release. This new record's barely there production doesn't so much frame Young Thug's rapping as it does provide a surface for his words to dance upon, to explore the art of rapping in multiple dimensions: melodically, rhythmically, lyrically, and in terms of composition. His voice glides through the thick absence of sound. He's responsible for a lot of the songwriting; he knocks out his own hooks, and his writing speaks to his use of phrasing, his backgrounds, the flows he uses, and the way he plays with each song's internal architecture. On "Halftime," his car-screech adlibs are elongated—it's as if a camera panned suddenly from a pinprick of light, causing it to blur—so he can change tones, harmonizing this background yelp with his own main vocals.
Relative to the manic experimentalism of earlier records like 2013's 1017 Thug, when Thug seemed focused on forging a new rap language, The Barter VI finds Young Thug judiciously consolidating earlier innovations, deploying them to more purposeful ends. (As a result, he may lose listeners for whom those "innovations" functioned as an end goal in and of themselves.). He's refining his style, with his earlier creative breakthroughs now taking a back seat as he conveys familiar ideas in new ways. Sleekly composed, his nuance here makes this the most listenable solo tape in Thug's catalog.

At the same time, this is very much a rap fan's rap album: Absent any big hooks or experimental overtures, Thug's lyrical performance is central to the appeal. This puts The Barter 6, a record created by a self-professed weirdo, in the strange position of being designed both for rap purists and open-minded hip-hop novices alike. Alternately, if purists are put off by his move to the middle of the road, and the average music fan only searches for big hits, it might end up appealing to no one at all. In the end, he may have bisected his potential audience, causing differing tribes to find common cause, and existing ones to split apart.
G/O Media may get a commission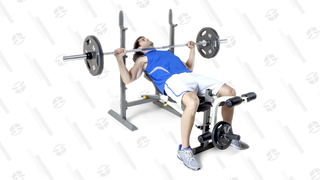 10% Off
Marcy Folding Weight Bench
In 2014, it was easy to be dismissive of Thug's lyrical abilities, especially since many struggled to understand him at all. Besides, on his biggest pop records, the hooks could do plenty of the heavy lifting. Perhaps resisting those crutches is an intentional maneuver, an assertion that Thug intends to be recognized not just for his eccentricities or his chart-toppers, but as an all-around artist. His lyrical style stands out in a number of ways; the most obvious is his ear for figurative language. Thug's similes often build upon familiar imagery, but move in unexpected directions. On "Check," he opens rapping about a "Mink coat with the rolls like a Shar Pei"; later on, he raps, "All my niggas, they hard, call them beetles." These aren't punchlines intended to get rap fans doubling over laughing (although they can be funny in their unpredictability). Thug seems more interested in an original and idiosyncratic approach to imagery, in discovering pathways in language that haven't already been heavily traveled.
In this, Young Thug's lyrical approach is closer to a rapper like Raekwon than it is Lil Wayne, with whom Thug is frequently compared through some fault of his own. But any close reading of his lyrics suggest comparisons between The Barter 6 and Wayne's Carter series, for which it is named, are a total misdirection. It's something Thug jokes about while trolling homophobic listeners on "Halftime": "I might eat it, I might lick it, but I swear i'll never bite 'em!" Of course, Wayne shaped Thug's approach to rapping, and still resides within his musical D.N.A. But where Wayne shredded his vocals against hip-hop's formal constraints, Thug is a synthesist, a rapper of control, an artist in the process of reassembly.
The playfulness of his poetics aside, Thug's rapping on The Barter VI is more heavily autobiographical than your typical ATL hitmaker. And he's living an emotional cocktail, his moment of triumph flooded with tense anxiety. These moods crash and blur on songs like "Od," an oath of loyalty to friends and family set off by the knife's-edge recklessness of its opening lines: "I think I'm ODing on drugs / I just started a fight inside the club." Or "Numbers," a mournful, paranoiac song of success. Violence never feels far from its surface.
The tape's cohesive sound lets guest verses seem as if they've entered Thug's universe, rather than distracting from it. This isn't a bland consistency, where a familiar mood papers over a lack of ideas. Instead, each song captures its own emotional tenor, suggesting shadows and crevices unexplored after each listen—a real world-building exercise. While the album doesn't have a strict narrative, its sequencing implies a very deliberate shape. (It even starts with a strong table-setting opening line, with Thug rapping, "Hopped out my mothafuckin' bed!")
The relative flatline of the production and the absence of anything resembling a radio record also makes minor variations feel that much more substantial. "Halftime" is a perfect example; eschewing the traditional chorus-verse-chorus-verse structure, a subtle euphoric shift at the song's climax becomes a revelation. The album peaks with "Knocked Off"—seemingly minor relative to earlier Thug hits, but among these low-amplitude album tracks, it feels like a lost summer jam.
Some may argue that The Barter VI fails to deliver on his big breakthrough moment. But it feels more like a chance to resist the dictates of the outside world, to reset the conversation. Thug has stripped his sound to its essence, refocusing our attention on his rapping, his songwriting, and his story. Closer "Just Might Be" is a tour de force from the moment his opening double-time shines through the parting-clouds production. Always thinking of the whole, he shifts to different flows throughout, never less than purposeful in his choices. It's a prime example of Thug's increasing sophistication as a songwriter. But it also finds Thug approaching the same unselfconscious directness that powered early songs like "Keep in Touch," recorded when he was just a teenager. That song's title could as easily be a message to his future—to suggest a continuity between his earliest work and his art today, asserting that he is, at heart, a hip-hop auteur.

---
David Drake is a Chicago-born writer living in Brooklyn. He tweets @somanyshrimp.