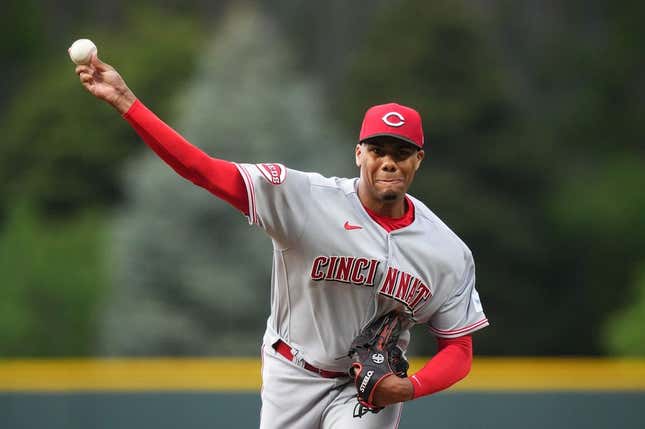 One of baseball's most electric young pitchers will match up against one of the sport's most venerable competitors when the Cincinnati Reds face the St. Louis Cardinals on Sunday
How running an NFL team is like running a restaurant | Chef Emeril Lagasse
Hunter Greene, 23, will start for the Reds and Adam Wainwright, 41, will take the mound for the Cardinals in the finale of a three-game series at Busch Stadium in St. Louis
The Cardinals won 7-4 in the opener Friday and the Reds answered with an 8-4 victory Saturday
The hard-throwing Greene (1-4, 3.92 ERA) allowed just one run on two hits in 12 innings combined in his past two starts. He struck out 19 batters and walked five in those games while clicking with catcher Curt Casali.
"Definitely going on the right track," Greene said. "Just continuing to stay locked in, stay present in the moment and never get satisfied. So I feel like I've done a good job with that. Players have been good behind me, I've loved throwing to Curt the last couple. It's been good chemistry going back and forth."
Casali has enjoyed sharing in Greene's development.
"He's a super impressive guy," Casali said. "For being 23 years old and kind of getting jousted into the face-of-the-franchise type position. That's a lot to handle for some people and I think he's done a really nice job of that."
Greene was in line to start on Monday, but he went through right hip stiffness that prompted the Reds to push his start back to this game. He is 0-2 with a 3.72 ERA in four career starts against the Cardinals
Wainwright (2-1, 5.97) allowed three runs on eight hits in 5 1/3 innings in his most recent start on Monday, which the Cardinals ultimately lost 4-3 to the Texas Rangers
"I'm just fitting in perfectly with this team right now, everyone is frustrated," Wainwright said after that game. "I was frustrated out there on the mound and not executing like I wanted to. I tried to add a little something too and I just missed location big time. Every time I try to add, I lose balls up thigh (high) across the middle. I just dialed back a little bit and started trying to pitch."
In each of his six starts, Wainwright has failed to complete six innings. After allowing four or more runs in his first four starts, he has allowed three in each of his past two.
Opponents are hitting .326 with an .898 on-base plus slugging percentage against him this season.
Wainwright won his earlier start against the Reds this season, but he allowed five runs on eight hits in 5 2/3 innings on May 23 at Cincinnati. He is 11-17 with a 5.53 ERA in 40 career games against the Reds, including 35 starts
The Reds got outfielder T.J. Friedl back from a hamstring strain Saturday after he missed 10 games. "Especially after coming off IL, playing for [a] week, and then having to go back on it, this time around I'm get excited to get back out there," Friedl said. "Everybody is playing well, having fun together.
The Reds made room for him on the roster by putting outfielder Jake Fraley on the 10-day injured list with a right wrist contusion
--Field Level Media