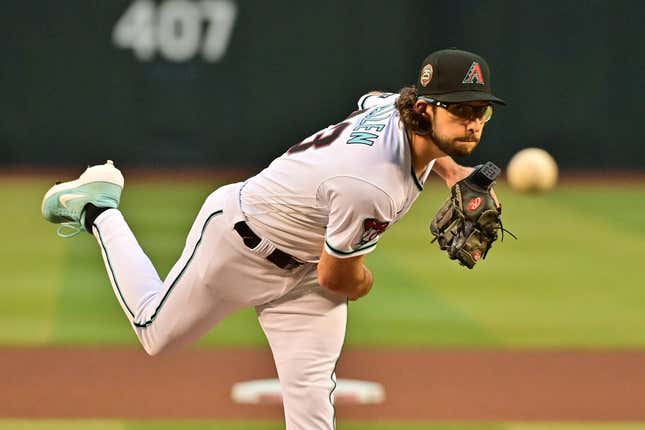 Zac Gallen struck out 11 in seven scoreless innings and Christian Walker smacked a two-run homer as the Arizona Diamondbacks notched a 3-0 victory over the Milwaukee Brewers in Phoenix on Monday night
Air Jordans are more American than McDonald's French fries | Deon Cole's Ultimate Sports Fantasy
Gallen (1-1) allowed three hits and one walk while facing two batters over the minimum as the Diamondbacks won their fourth consecutive game
Josh Rojas added an RBI single and Ketel Marte had two hits and scored twice for Arizona. Nick Ahmed had three hits for the Diamondbacks
National League-leading Milwaukee lost for the second time in three games.
Gallen was removed after 96 pitches despite striking out two in the sixth and two in the seventh.
Scott McGough hurled a perfect eighth and Andrew Chafin struck out the side in the ninth for his second save of the season. Chafin hasn't allowed a hit in five appearances.
Christian Yelich and Joey Wiemer struck out three times apiece and Milwaukee hitters fanned 15 times overall.
Wade Miley (1-1) gave up three runs and five hits over five innings for the Brewers. He struck out three and walked three
The Diamondbacks racked up 23 runs and 33 hits over the previous two games, but Gallen's pitching set the tone for a lower-scoring effort. Arizona had just eight hits on Monday
The Diamondbacks needed just two batters to score a run off Miley. Marte led off the game with a double to right and Rojas followed with a run-scoring single to center
Marte led off the fifth with a walk before Miley retired the next two batters. Walker came up and went the opposite way, barely depositing a two-run shot over the fence in right center to make it 3-0. It was Walker's second blast of the season.
The Diamondbacks threatened to tack on to the lead in the eighth as Evan Longoria singled to right with one out and Ahmed laid down a two-out bunt single off Javy Guerra. But Gabriel Moreno bounced into a fielder's choice to end the frame
--Field Level Media