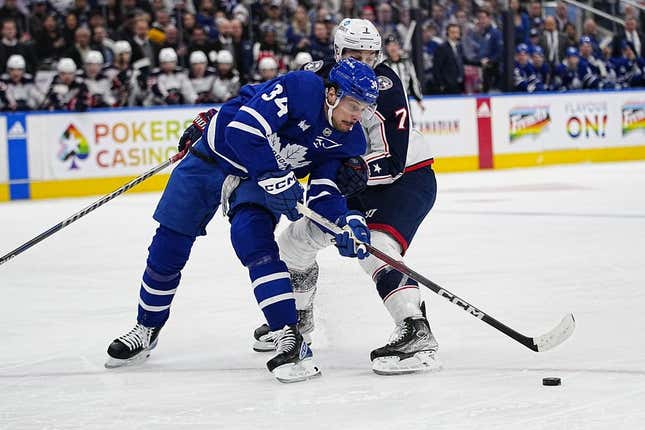 Zach-Aston Reese scored two goals and the Toronto Maple Leafs defeated the visiting Columbus Blue Jackets 4-2 on Tuesday night
'Soccer fandom is full of gatekeepers' says Ted Lasso actor Brendan Hunt
Alexander Kerfoot and Auston Matthews (empty net) also scored for the playoff-bound Maple Leafs. Sam Lafferty added two assists and Joseph Woll made 24 saves for Toronto (46-21-10, 102 points)
The victory put Toronto six points ahead of the Tampa Bay Lightning in the race for second place in the Atlantic Division. Each team has five games to play.
Jack Roslovic and Eric Robinson scored for the Blue Jackets (24-45-8, 56 points), who are out of playoff contention
Jet Greaves played a strong game in stopping 46 shots for Columbus in his NHL debut.
The Maple Leafs won two of three from the Blue Jackets this season
Toronto took the lead when Aston-Reese scored at 5:10 of the first period on a 16-foot shot after a pass from Justin Holl.
Columbus tied the game when Roslovic scored his 11th goal of the season on a 16-foot wrist shot at 12:22 of the first. Kent Johnson made the final pass after Liam Foudy carried the puck into the Toronto zone.
Toronto led 16-5 in shots on goal after one period.
The Maple Leafs took advantage of a neutral-zone turnover to go ahead 2-1 lead at 7:25 of the second period. Kerfoot scored his 10th goal of the season, knocking in a rebound after Greaves made a good save on Nick Abruzzese's shot
The Maple Leafs had a 33-17 advantage in shots on goal through two periods
Aston-Reese scored his 10th goal of the season at 8:11 of the third period on a tip-in of Jake McCabe's shot.
After scooping up a loose puck in the Columbus defensive zone, Eric Robinson burst down the left side and put a sharp-angled shot past Woll at 12:03 of the third for his 12th goal of the season. It pulled the Blue Jackets within 3-2
Matthews scored his 38th goal of the season when he shot into an empty net at 18:57 of the third.
Toronto goaltender Matt Murray (head injury) was not in uniform.
--Field Level Media