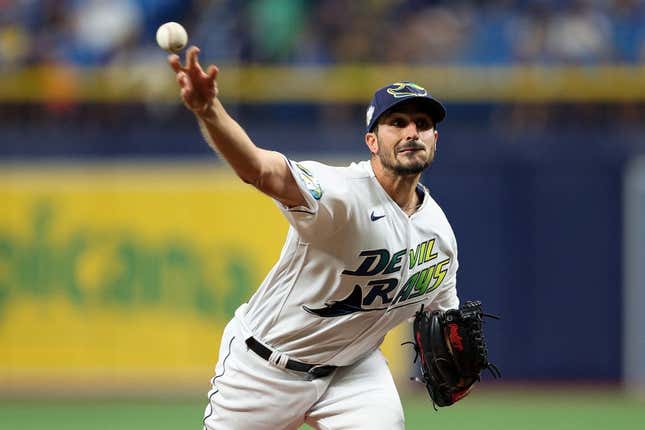 The homer-happy Tampa Bay Rays are beating teams in many different ways. Walk-offs, in fact, have been their recipe for success in the first two games of their series against the Chicago White Sox in St. Petersburg, Fla
The red-hot Rays will look for a series sweep of the White Sox on Sunday afternoon
Randy Arozarena had a two-run homer in the first inning, an RBI single in the fifth and a walk-off RBI single in the 10th to give Tampa Bay a 4-3 victory on Saturday.
"He did not try to hit it to 'Randy Land,'" Rays manager Kevin Cash said of Arozarena's single to the opposite field in the 10th
Tampa Bay scored three runs in the ninth inning Friday in an 8-7 win.
The Rays anticipate Zach Eflin (2-0, 3.27 ERA) will be activated for Sunday's game after being on the injured list with lower-back tightness since April 11. Eflin's injured list stint was retroactive to April 8, meaning Sunday is the first day the right-hander is eligible to be reinstated
Lucas Giolito (1-1, 4.29) gets the nod for the White Sox. In 21 innings this season, the right-hander has 23 strikeouts against just four walks
Eflin has faced the White Sox just once in his career, throwing two scoreless innings of relief
Conversely, Giolito has pitched effectively in his career against the Rays, posting a 2-0 record with a 2.27 ERA in six appearances (all starts). He is averaging more than a strikeout an inning (43 strikeouts in 39 2/3 innings) in head-to-head matchups with Tampa Bay
On Saturday, the Rays (18-3), riding a four-game winning streak, set a major league mark by homering in each of their first 21 games. The previous standard to start a season was held by the 2019 Seattle Mariners
"I think home runs are a by-product of a great swing," Rays' infielder Brandon Lowe told the Tampa Bay Times
The Rays have an MLB-leading 46 home runs
"That has not been the focus at any point of driving the baseball," hitting coach Chad Mottola told the Tampa Bay Times. "It's been about swing decisions, and this has been a product of that, getting your pitch to hit."
On Saturday, the long ball was pretty much the entire White Sox offense. Eloy Jimenez, Yasmani Grandal and Gavin Sheets each hit solo homers
The Rays received a scare on Saturday when first baseman Yandy Diaz removed himself during warmups in the eighth inning. The club announced he was dehydrated and is expected to be fine
While it's early, the White Sox have yet to get any consistency, and they have yet to win a series
"Every team I've ever been on, or a part of, you have streaks like this," Chicago manager Pedro Grifol said. "Whether it's at the start, middle, end. I'm not frustrated with these guys. I trust these guys. I trust the work they're putting in. We just have to keep going, keep battling."
--Field Level Media