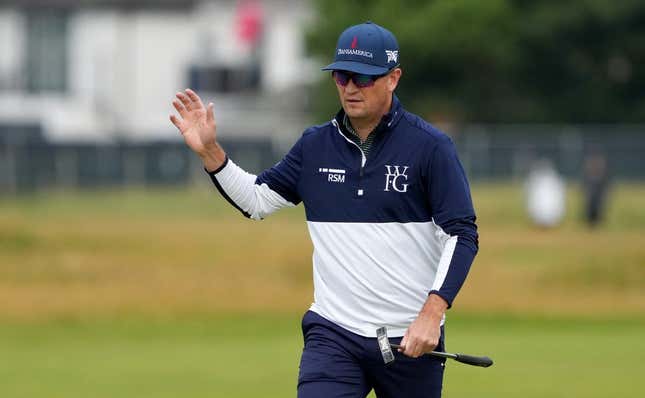 U.S. Ryder Cup captain Zach Johnson and vice captain Stewart Cink have their team of 12, and now the time for scouting the course and penciling mock pairings has arrived.
How running an NFL team is like running a restaurant | Chef Emeril Lagasse
There's chemistry between teammates to consider, such as Patrick Cantlay and Xander Schauffele's dominance together as match-play partners. But what stands out to Johnson and Cink about this Ryder Cup in particular is the demanding nature of Marco Simone Golf Course.
"It's probably the most — the most demanding, physically, of any Cup course I've ever seen that I've been a part of," Cink said Tuesday ahead of the PGA Tour's Fortinet Championship.
"No question," Johnson said. "In my time, for sure."
Johnson headed to Rome earlier this month with nine of the team's 12 players to scout Marco Simone. Only Jordan Spieth, Cantlay and Schauffele could not make the trip.
"We're starting to get into some possible pairings to see what's best for that golf course and what's best for our team," Johnson said.
"I think the golf course is going to solve some of that problem because it's so hilly and the temperature could be pretty hot, too, that I think guys are going to be happy to probably rest," Cink chimed in. "There's not going to be a lot of disappointment for not playing."
Johnson agreed, noting it was "a brutal walk."
The host team gets to set up the course to its liking, and the United States has not fared well overseas, last winning a Ryder Cup in Europe in 1993.
Johnson and Cink will spend some time at the Fortinet Championship with two of their team members, Max Homa and Justin Thomas. Homa is the event's defending champion, while Thomas is competing for points in the first-ever FedEx Cup Fall series.
When making their lineup decision, the captain and vice captain aren't going to weight Homa's and Thomas' week in Napa, Calif., too heavily.
"Four days of stroke play is vastly different than five sessions of match play in three days," Johnson said.
Cink already figures that whatever Homa and Thomas accomplish this week "will be overstated to the good or to the bad."
"I hope they both win. I don't think that's possible, but I hope they both win," Cink said. "That would be great for their confidence alone ... I just think for us internally, it would probably be — we hope that they have confidence coming out of this week and that would be a great thing."
—Field Level Media