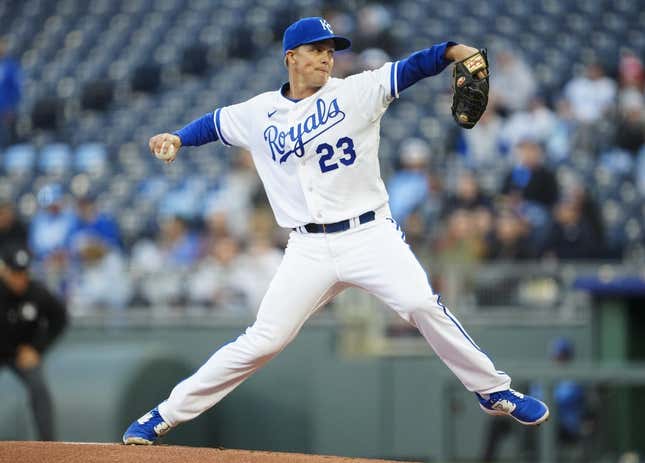 The Kansas City Royals have struggled to score this season, especially when their ace, Zack Greinke, is on the mound
Greinke has received no run support in his first two starts, which is why the veteran right-hander is 0-2 despite a solid 2.38 ERA.
Maybe a change of scenery is needed as Greinke will make his first road start of the season on Monday night, facing the Texas Rangers in Arlington, Texas
The Rangers will counter with left-hander Andrew Heaney (0-1, 23.63 ERA), who had a forgettable debut with the team by allowing seven runs and not making it out of the third inning Tuesday against the Baltimore Orioles
For Greinke, though, the road wasn't too favorable last season. He went 0-7 with a 5.32 ERA over 14 road starts. His last road victory came on Aug. 13, 2021 as a member of the Houston Astros.
Greinke is 0-2 with a 13.00 ERA in two starts at Globe Life Field. He went 2-4 with a 3.21 ERA in eight games, including seven starts, at the Rangers' old ballpark formerly known as The Ballpark in Arlington
In his career against the Rangers, Greinke is 8-8 with a 3.63 ERA in 24 games, including 22 starts
For Greinke, a win would mark the 32nd different stadium he's won at least one game at. And he's chasing career win No. 224, which would move him into a tie for 71st all time with Jim Bunning and Catfish Hunter.
The Royals are bringing a little momentum into the series as well, winning two of three games at San Francisco this past weekend
As veteran catcher Salvador Perez told MLB.com following Saturday's 6-5 victory, after the Royals erased a four-run deficit, "We're a young team. Getting wins like this is going to help us get the confidence we need to keep winning.
Kansas City was in position for a sweep on Sunday, but San Francisco rallied for three runs in the eighth inning for a 3-1 victory.
Texas, meanwhile, avoided a sweep with an 8-2 victory at the Chicago Cubs on Sunday afternoon. Bubba Thompson, who started as the No. 9 hitter, played a starring role with a triple, double and two RBIs.
Rangers manager Bruce Bochy said Thompson brought "game-changing speed" to the lineup but was mostly pleased with the resolve his squad showed after committing five errors on Saturday
"To bounce back, it's really what this game is about," Bochy said. "You've got to be resilient. You're going to have your rough days and come back and find a way to win a ballgame. They did."
The Rangers will look to carry that momentum into Heaney's second start
Heaney has pitched fairly well in four career starts against the Royals, going 2-0 with a 2.28 ERA. He last faced Kansas City on Aug. 13, 2022, as a member of the Los Angeles Dodgers, allowing two runs on three hits over three innings in a no-decision
--Field Level Media