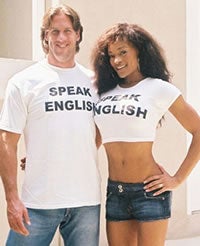 Two days before Thanksgiving, at Local 138, one of our favorite watering holes in New York City, we sat down with, of all people, famed immigration expert John Rocker, and talked for about an hour. Really. We did this. See? Sometimes we interview people.
Why did we decide to interview Rocker? Well, the interview took place just a day after Michael Richards' famed "fork up your ass" performance at The Laugh Factory in Los Angeles, and we thought maybe he could shed some light on the situation. He also is promoting, uh, something right now, his "Speak English" campaign, an attempt not to change his image but, you know, enhance it. It's clear Rocker would like to be a Fox News talking head, and he's in the process of writing a book expounding his worldviews. And also: We thought it would be fun to see what kind of drink Rocker would order. (Mandarin Absolute and Red Bull; not much of a surprise there.)
He was accompanied by his girlfriend, African-American model Alicia Marie (pictured), who chimes in occasionally during the interview. She's a lovely woman, and awfully nice. (She ordered a Diet Coke.) After the jump, our entire hour-long interview with Rocker, mostly unedited, except for when a question we asked made us sound like an idiot, in which case we edited it up to make ourselves look witty and charming. We were going to have a surreal picture of us, Rocker and Alicia to accompany this story, but we had a few too many Newcastles and forgot to take one. We're such an exceptional journalist.
It's long, but we hope you find it worth your while. Maybe. Enjoy.
———————————————————————————————
Hey, thanks for meeting up with me. Cheers. Welcome to New York. How long are you here?
Through Sunday, actually.
Where you having Thanksgiving?
At her parents' place (points at Alicia Marie).
Really? Uh, have you met her parents before?
Yeah. I've met the younger sister, and both parents. I've met her mom once, her dad twice and her younger sister went to dinner with us three weeks ago.
Uh ... do they like you?
Alicia chimes in: I was initially worried about my dad.
I can imagine.
Alicia: But my dad, like, loves him.

Rocker: Yeah, we all went out dinner and had a great time.
Really?
Yeah. They really like me. They're really nice people.

Alicia. I grew up in Connecticut. They're the only black Republicans on earth.
Did you guys really meet when John was pitching against me in Herald Square Bryant Park? I'm really pissed you struck me out, by the way. My excuse is that it was really cold outside.