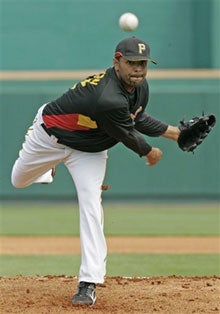 You might remember, from back at the beginning of the NFL season, when we previewed each team by having a writer we liked write about their favorite team.
Well, we're less than a month away from the start of baseball — spring training is here! — so it's time to do the same thing in the baseball world. Every weekday until the start of the season, a different writer will preview his/her team. We asked a gaggle of writers, from the Web, from print, from books, to tell us, in as many or as little words as they need, Where Their Team Stands. This is not meant to be factual, or dispassionate, or even logical: We just asked them to riff on why they love their team so much, or what their team means to them, or whatever.
Today: The Pittsburgh Pirates. Your author is Don Spagnolo.
Don Spagnolo is a freelance writer and editor of Mondesi's House, a Pittsburgh sports comedy blog. He is also the owner of Steelcityauctions.com, a Pittsburgh-based sports memorabilia firm. His words (and pictures) are after the jump.
—————————
79 Reasons Why It's Hard To Be a Pirate Fan

I love the Pittsburgh Pirates. They were my boyhood team, they were my inspiration for playing 14 years of baseball and they're still my favorite team to this day. Some of my fondest childhood memories include coming home from school, making sure all my chores were done and then getting to stay up late to watch Barry, Bobby Bo and company eventually self-destruct in the NLCS each year. But those days seem like a lifetime ago. Actually, they're a generation ago, because I estimate that anyone 21 or younger has no memory of the Pirates as a winning organization.
The team last had a winning season in 1992. We're closing in on 15 consecutive years of losing. I've seen the Clippers and the Bengals in the playoffs in my lifetime, so I know it's at least possible to think that the Pirates have a shot. But getting to that point is a lesson in patience.
What I wanted to talk about today is the plight of the Pirate fan. Save for a few exciting championship runs in the late '80s/early '90s, the franchise has given their followers a whole lot of nothing since that 1979 championship. I know there are fans of other franchises that can sympathize with the cause, but I'm not looking for pity. This is a city that is dying to embrace a winning baseball team, but has a team that refuses to cooperate.

A perception exists that the Pirates have no fans. Totally untrue. In reality, there are still legions of Pirate fans. They are out there on a cold January afternoon attending PirateFest. They are out there running a blogger's roundtable of Pirate issues each week. They are out there to the tune of almost two million in attendance for a 95-loss team last season. If anything, they have very loyal fans.

To steal a line from Hustle and Flow, it's hard out here for a Pirate fan. Despite all the love we have for them, they routinely put us in situations where we question our loyalty. So I decided to outline 79 reasons why it's so hard to be a Pirate fan. Why 79? In honor of 1979, the last Pirate team to appear in the World Series.

So wish us luck in the coming season. But keep in mind that the last Deadspin preview I wrote for a team didn't help their season too much. To Pirate fans, hang in there. Don't give up hope. And try not to choke on your own vomit after reading this.

79. Jabba the Jimmy Anderson. The gut heard round the world.