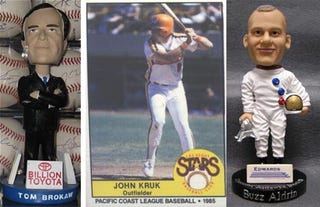 Time to check in on the world of minor league baseball promotions with Rick Chandler's Minor Enterprise!
Ever wonder why you've never seen a Vladimir Putin bobblehead doll? The Russians wouldn't know what to make of such a thing. Ach! I touch it, and head bounces in unseemly manner! (Smashes it with shoe). We are not amused by foolish spring toy! No, the bobblehead is a truly American idea, representing a rich tradition handed down by the founding fathers. The bobblehead doll is America.
No one understands this better than minor league baseball, which rolls out not one, not two, but four great bobble promotions over the next five days. Leading off is the great, scruffy John Kruk, who, in addition to being a former Phillie, once played for the Las Vegas Stars. Kruk will be honored tonight by the Las Vegas 51s, as the team is now called, who will give out his bobble likeness to the first 2,500 fans who show up for their game with the Tucson Sidewinders. Before he was a Baseball Tonight superstar, Kruk played for the Stars from 1984-86, winning the Pacific Coast League batting title in '85. The man himself will be in attendance, and will be demanding polish sausages, no doubt. You know where the snack bar is.
From sunny Las Vegas we take you to Sioux Falls, S.D., where another TV legend, former NBC News anchor Tom Brokaw, will be bobbleized on Saturday by the Sioux Falls Canaries (Independent American Association). Brokaw was born in Webster, S.D., and married a former Miss South Dakota, and you can honor him by attending the game between the Canaries and the St. Paul Saints. And don't forget that Saturday is Aerospace Appreciation Night for the Lancaster JetHawks (Class-A California League), who will be honoring that great moon pedestrian, Buzz Aldrin, in a game against the Stockton Ports. Dr. Aldrin will take part in a pair of special ceremonies on the field before and during the game, and the first 1,000 fans will receive a bobblehead doll featuring Aldrin in the flight suit he wore when he became one of the first two men to walk on the moon (that is, if you don't believe that the entire thing was faked).
Also, the Auburn Doubledays (Class-A New York-Penn League) will rock hard on Tuesday, Aug. 28, with Johan Santana bobbleheads to the first 1,000 fans at their game with the Mahoning Valley Scrappers. The great Minnesota Twin played for Auburn in 1997 and '98. A different kind of bobble promotion occurred on Aug. 19, as the Florence Freedom (Independent Frontier League) handed out bobbletowers to the first 1,000 fans who showed up and claimed a voucher. Believed to be the first bobble depiction of a stationary landmark, the toy represents the famous Florence, Kentucky water tower on which the words "Florence, Y'All" are painted. A full report on that event after the jump.
A tribute to Gene Simmons of KISS, the triumphant return of Mariner Moose, and I forget to mention Alzheimer's Awareness Night, all after the jump.
• Report From Bobbletower Night. A reader reports in on this gala event: Is this the first of its kind? Anyways interesting Bobble promotion for the Independent League Florence Freedom. I had the pleasure of attending the game Sunday and the watertower is located off of I71/75 south of Cincinnati in Northern Kentucky. Zooperstars were in attendance and my 2 year old was terrified of Roger Clamens.....His head has gotten bigger. [Thanks to David Kovich]
Other promotions ...
• Return Of The Mariner Moose. Saturday, Aug. 25. Yakima Bears (Class-A Northwest League). To help rehabilitate his image, or perhaps as a condition of his probation, the Mariner Moose visits U.S. Cellular Field to delight fans with his crazy antics. It's all part of his multi-city Mooseapalooza Tour. Don't go near his bus!