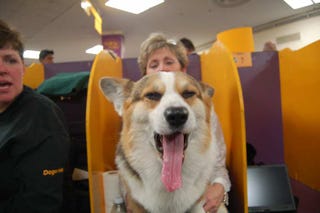 Starting yesterday and concluding today, the Westminster Dog Show at Madison Square Garden features the finest athletic specimens at MSG since ... well, since the last Dog Show. We don't consider competitive dog preening a sport, but we do find it funny, and we think Best In Show is one of the funniest movies ever made.
Therefore, we dispatched intrepid reporter Barry Petchesky to cover the show yesterday — he'll be there again today and filing tomorrow — and give us the lay of the land and clock some bitches. Barry Petchesky is a freelance writer in New York City, and he plans to use this as a clip, which is rather pathetic. We now hand the mic to him.
—————————————-
I was at a modern art exhibit a few weeks back, and I came across one piece that caught my eye. The entire canvas had been painted black. I'm sure the artist was making a heartfelt statement about the over-saturation of the contemporary visual landscape, but the fact remains that I was looking at a black square. I turned to a friend and stated, "not art."
Once you've pulled the "not art" card, there's no further discussion. So allow me to preempt criticisms of the Westminster Dog Show by agreeing with you. This is not a sport. It's a beauty contest. It's a circle jerk for the show community. It's a dog and pony show, minus the ponies. But who cares? We're in the middle of the desert of the sports calendar, with nothing of importance until March Madness. And the dog show is more competitive than the Pro Bowl. The entrants are more athletic than golfers. It's more respected than the WNBA. And I get to take pictures of lots of really cute dogs. It's a win-win situation, so follow me inside as America finds one dog to rule them all.
I love the little things that tell you unmistakably that you've entered a different world (though I think that sign is up during Knicks games as well). Things like the lady I saw wearing a jean jacket embroidered with the faces of her and her cocker spaniel. Things like a giant bloodhound licking a woman's face, and her licking it back just as vigorously. Ladies and gentlemen, this is the land of Dog People.
The holding area is a nightmare. It's crowded, cramped, noisy, smelly and generally depressing. I caught some flak for last year's comparison to a Doggie Dachau, so let's call it a Doggie Dorm. Half the residents seem to be in heat, and just like the University of Miami during Najeh Davenport's enrollment, there's doody everywhere.