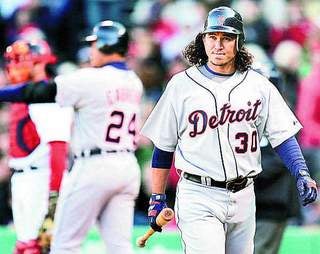 Detroit Tigers: EPIC FAIL. The Tigers are 0-7 following another fine performance on Tuesday — a 5-0 win by the Red Sox in the opener at Fenway — and the natives are beginning to get restless. First let's go to the blogs.
Mack Avenue Tigers: "WHAT THE SAM HELL IS GOING ON??! Will this nightmare ever end?" Bless You Boys: "Maybe Kenny Rogers has that grandfatherly effect on his teammates, like how your eyelids might get heavy when your grandpa tells you the story of how he came to choose the particular pickled bologna he just sliced for you." And, thanks to TigerBlog we learn that only two teams have started 0-6 and made the playoffs: The 1974 Pirates and the 1995 Reds. So there's that.
But a losing streak like this is always hardest on the local radio guys. On Monday, Kevin Matthews of WLAV-FM thought that it would be cute to say that he would stay on the air until the Tigers win a game. "When is daddy coming home, mommy? Do we still have a daddy?" Then there's Terry Foster of the Detroit News, who put things into perspective like this "Have you ever seen a dad wave good bye to his children in the morning? That's the way the Tigers looked at the plate during Tuesday afternoon's 5-0 smothering to the Boston Red Sox at Fenway Park."
No, the Tigers can't even win a game in which Bill Buckner throws out the first pitch. Can this team approach the awfulness of the 119-game-losing, 2003 Tigers? Probably not. But until they win at least one, let's not rule it out. Rogers went 4 2/3 innings and gave up two earned runs, which isn't terrible. But Detroit is hitting only .235 as a team and has been outscored, 44-15, so giving up anything is deadly. Kevin Youkilis had three hits and two RBI for the Red Sox, and Daisuke Matsuzaka (2-0) allowed four hits over 6 2/3 innings with seven strikeouts and four walks to get the win. Chins up, Tiger fans! Nowhere to go but up!