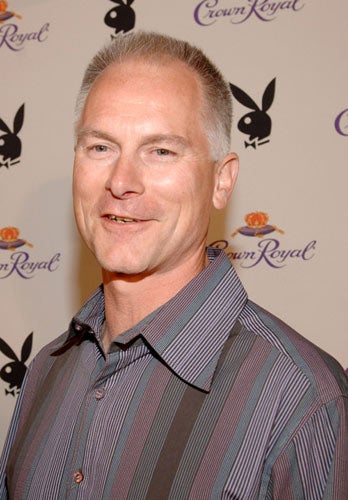 Today we unveil a new feature on Deadspin, creatively titled, "Interviews of a Lifetime," where I, A.J. Daulerio, will attempt to interview a person of note in the sports, media,or entertainment community and attempt to learn something newsworthy that could be passed on to you fine readers of the internet. These will come when they come. Hopefully, more often than not.
If you — or your "client" — would like to be included, please contact either myself or Deadspin HQ for inquiries.
First up: ESPN's Kenny Mayne.
—————————
What made Suzy Kolber's baby?
Kenny Mayne contemplates this question as we sit across from each other a tiny table in the library at the Regency hotel on 61st and Park in Manhattan. He repeats it out loud — slowly — lets it simmer, smirks, then tries to think of the best way to answer it without saying anything too offensive.
"What made the baby?" he repeats, making sure he got the question right.
Yes. What. The Kolber tot is a milkshake baby. So where did it come from?
"That is public knowledge, right?" he asks.
I say, yes, but then I'm not sure. I mean, she's not married, there doesn't appear to be a man in her life, and, as I explain to Mayne, there have long been questions about her sexuality and whether or not she's a lesbian.
Mayne smirks again, the patented Kenny Mayne smirk. He chooses his answer carefully since Kolber is a friend of his and he's seen pictures of the baby and then reminds himself (and me) out loud that he still has to get the baby a present.
"I think Suzy's devotion to her child and wanting to be a mother is what made the baby." Proud of his answer, he smiles.
The reason I'm sitting here in this fancy hotel, at this tiny table, talking to Kenny Mayne is because Kenny Mayne is writing a book. Or has written a book. It's called "An Incomplete & Inaccurate History of Sport," and it hits bookstores April 22. We set up this interview the day before; he agreed to meet and said he'd be wearing blue. He was. The book is comprised of short little chapters outlining everything from tackle football to orienteering, with some factual elements, generously sprinkled with bone-dry, here's-what-I-think riffs that may or may not have anything to do with the chapter titles. There are pictures and crude illustrations by his young daughters.
Bottom line: if you love Kenny Mayne, you'll love the book. If you don't like Kenny Mayne, you'll hate it. If you have no idea who Kenny Mayne is, the book will be as enjoyable to read as an Icelandic car insurance policy.
Here is some information gleaned from our two-hour conversation:
• This is a fancy-ass hotel he's staying at, and Kenny Mayne seemingly knows every single person who works there. We pause a few times during the interview so he can acknowledge busboys, waiters, hostesses and various other hotel employees. Others spotted at the hotel in the lobby? Diane Sawyer. Colin Powell. Oh, and the black piano-playing dude from Melinda and Melinda who ended up boinking Chole Sevigny. (Ed. Note: That would be Chiwetel Ejiofor, and he's actually pretty awesome.)
• He was paid a little under six figures to do "Dancing With The Stars."
• He read his Media Approval Rating and was impressed at how well thought out the comments were.