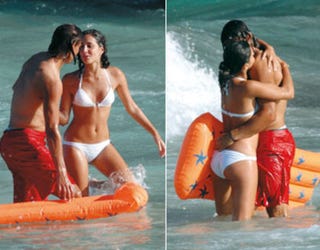 From the diligent folks at Guanabee comes this report: Rafael Nadal not only has the Wimbledon trophy, but also a now-not-so-secret super hot girlfriend, Maria Francisca "Xisca" Perello. Although previously a no-show at his matches, the college student was in attendance at Wimbledon, and I'm sure we'll be hearing more from her. I was getting tired of Erin Andrews anyway.
This from Machochip:
The two have been dating for quite some time now, making their romance public two years ago when the lovely vixen was 18 years old (you sly dog, Nadal). She was at Nadal's side during his streak-severing winning performance against five-time Wimbledon champ Roger Federer yesterday and now the world will know about her.
This is a big deal in Spain, evidently. More photos here.
Shwing! Meet Rafael Nadal's Secret Girlfriend: Maria Francesca "Xisca" Perello [Machochip]

Rafael Nadal Has It All: Muscles, Wimbledon Trophy And A Secret Girlfriend Named Maria Francisa Perello [Guanabee]