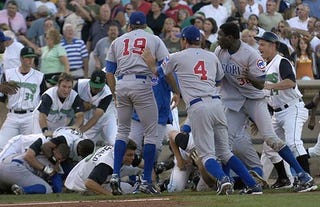 As you probably saw in our morning wakeup video whachamahoozit, the Peoria Chiefs and Dayton Dragons engaged in a pretty nasty brawl at Dayton's Fifth Third Park on Thursday, which even included a civilian casualty. Peoria pitcher Julio Castillo threw a ball at a Dayton player in the dugout, but missed and instead hit a fan in the stands who had to be taken to the hospital. Control like that is why you're in Single-A, my friend. Then comes this oddity: 17 players were ejected, but those ejections
were reversed by the parent clubs — the Cubs and Reds —
due to the fact that each team would have had to finish the game with two pitchers playing in the outfield. Here again is the video, which begins with managers Donnie Scott of the Dragons and Carmelo Martinez of the Chiefs arguing over hard slides and hit batsmen. Then suddenly
Mr. Castillo
flies into frame and throws a vicious haymaker at someone ... or is that where he throws the ball? Hard to tell.
Click to view
As for the fan Castillo hit; he was reportedly struck in the head so hard that
the ball caromed five rows behind him
and landed in another fan's lap. Also, somewhere in there, Peoria second baseman Gian Guzman suffered a broken leg. Telling note: Midwest League president George Spelius was called at home following the fight, and had to check with his overlords with the Cubs and Reds who "advised" him to temporarily lift the suspensions so that pitchers wouldn't have to be used in the outfield. Suspending the game was out of the question, I suppose. In the MLB, the bottom line rules.
Brawl Erupts At Dragons Game, Fan Struck By Ball
[Dayton News]