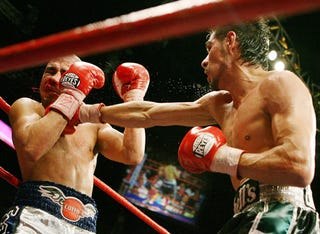 He's also the new welterweight champion of the world after a stunning 11th round stoppage over previously undefeated superstar Miguel Cotto. And let me just say,
holy fucking shit!
That was a fight was one of the finest displays of boxing I've ever seen, and it's the unquestionable choice for Fight of the Year. Pretty much everything that boxing fans expected, along with a stunning end that few foresaw. Cotto looked every bit the pound-for-pound elite he'd been pegged as throughout the first half of the fight only to see Margarito walk through every rock solid punch like the T1000 on PCP. Cotto's hand speed and swift lateral movement allowed him to pick-off and counter his challenger's punches, even when on the retreat. Margarito was repeatedly punished by Cotto's vaunted left hook, although far too many of those were directed at the head. Cotto has been known as one of the premier body punchers in the sport, primarily due to that ruthless snapping hook, yet he never committed to attacking Margarito's long torso. Had he done so he might have slowed down Margarito's unrelenting attack. That is, if Margarito
can
be slowed down at this point. Instead it was Cotto who began to wither in the latter stages of the fight, likely due in equal part to Margarito's constant flurries and the energy Cotto expended with all of his movement early in the fight. Once the fighters entered the championship rounds it became clear that Cotto was simply trying to hold on for the fight's final nine minutes. Of course a guy like Margarito wasn't about to let that happen. Instead he went after the heavy favorite with furious swarms of punches thrown from a variety of angles. Eventually Cotto was reduced to a beaten fighter, taking multiple knees before his corner waved the towel. Antonio Margarito is the new champion, and quite possibly the toughest motherfucker roaming the Earth. Vazquez-Marquez was my previous pick for FOY, but after watching Margarito overcoming Cotto's superbly technique, speed, and power to score a knockout makes this all but unbeatable. So what happens from here in the most exciting division in boxing? I say Margarito should take a rematch with Cotto. Oscar de la Hoya is too smart to take on such a dangerous fight without the huge guaranteed payday that would have come with a Cotto fight. Bob Arum would have settled for a match against the winner of the upcoming Zab Judah-Joshua Clottey fight, but now who knows if that will happen. Paul Williams is the other major player in the division, and he famously won a decision over Margarito. Considering their history, and the fact that Williams holds a piece of the welterweight title it would make sense to see the two get back in the ring. And then there's my boy Andre Berto. The young, charismatic fighter is undefeated and a match between he and the winner of the Judah-Clottey fight would be a spectacle. Oh, and be sure to check out Large's live coverage over at
The Sporting Blog
. I'm just diving in now, and it's pretty great.