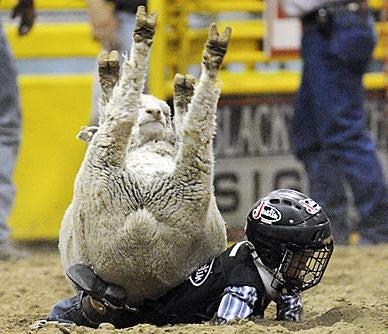 I'm no rodeo expert, but I'm pretty sure this kid isn't doing it right. But such is life in the breakneck world of mutton busting; sometimes you ride the mutton, and sometimes the mutton rides you. Yes, mutton busting ... because in the old west, it was so important to break the wild sheep herds that roamed the prairie. This is pretty much what it looks like: At some rodeos , frightened sheep are let loose and small children placed upon them. Ah, red states, you never fail to entertain. Just where does one get a sheep saddle, anyway? From the Wikipedia entry on mutton busting:
The children are on occasion injured by the sheep. Height and weight restrictions on participants generally prevent injuries to the sheep. Parents are often asked to sign waivers to protect the rodeo from legal action in that event. Anti-rodeo groups such as SHARK describe the practice as child abuse. Organizations such as the ASPCA also discourage the practice on the grounds that it does not promote kindness or respect of animals.
It's better than youth soccer, I suppose.
Mutton Busting
[Snake River Stampede]
Uh, I'm Pretty Sure This Isn't How Things Usually Go
[Lion In Oil]