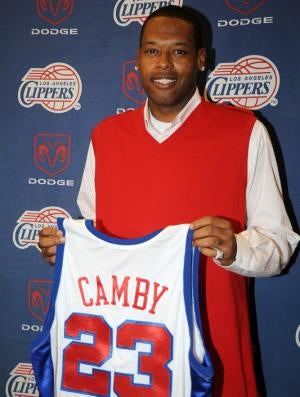 It's been a rather busy summer in the NBA: Extensions, trades, free agent signings, a few defections, and one notable overseas departure. And although guys like Kwame Brown and Randolph Morris are still looking in vain (and abject terror) for a new home, here's a semi-exhaustive list of the major, minor and (in some cases) meaningless player movement that has ocurred so far.
Andrew Bogut:
Prepare to be filled with hatred for a world that rewards men for simply growing to a height of at least seven feet: Bogut has signed a five-year extension with the Milwaukee Bucks that could pay him up to $76 million dollars (with incentives). If there was ever an occasion for
Bogut to high-five himself
, this is it.
Andris Biedrins:
The Warriors didn't want to give Baron Davis a little extra cash, but they were willing to spend $63 million over six years on Biedrins? Seriously?!
Baron Davis:
We all know this story
. Hopefully the joy of playing in his hometown will compensate for the horrors of being a Clipper. Kind of like how those awesome handicap parking spaces have made up for losing my leg in that tragic wood-chipping accident.
Beno Udrih:
Did you ever think you'd live in a world where Beno Udrih signed a five-year, $32 million contract? Yeah, me neither. Thank you, Sacramento Kings, for making that happen. The crazy future is now.
Brent Barry:
This two-year deal will work wonders for the Rockets' offense by stretching opposing defenses and giving Yao room to work for the 50 games he will play before getting hurt again. It also gives Tracy McGrady a long-ball threat to dish to after he drives headlong into another triple-team.
Chris Andersen:
Hey, Nuggets fans. You can calm down now. Rex Chapman found a replacement for Marcus Camby. SQUAWK! The Birdman has a new nest!
Chris Duhon:
This is how far Stephon "I know I'm the best point guard in the NBA" Marbury has fallen: The Knicks signed Duhon and many people see that as a definite upgrade. Yikes. This has to be pretty exciting for Knicks fans who are nostalgic for the Charlie Ward era.
Corey Maggette:
Chris Mullin proved once again that the Golden State Warriors aren't afraid to drop coin on players not named "Baron Davis" by signing Maggette to a five-year, $50 million free agent deal.
Daniel Gibson:
Who doesn't like boobies? Danny Ferry certainly likes
this
Boobie; he signed Gibson to a five-year, $21 million deal. Not bad for a backup point guard, eh? I'm sure this move will help ensure that LeBron doesn't leave until the very first chance he gets.
Deron Williams:
He signed a $70 million extension that will trap him in Utah through at least 2012 (or 2013 if he takes the player option). Of course, the deal won't look nearly as attractive to Williams one year from now after Carlos Boozer betrays the team to seek more money elsewhere.
DeSagana Diop:
Quick question with a "No" answer: Can Diop do battle with the Amares, Duncans, Paus and Yaos of the world? No. So why did the Mavs sign him to a five-year, $31 million contract six months after trading him to New Jersey as part of the Jason Kidd mega-deal? Because it amuses Mark Cuban to watch Erick Dampier and Diop battle for minutes. Said Cuban: "Dance for me puppets...dance!"
Eddie House:
The Celtics were willing to part with Posey, but not House. That Danny Ainge sure is a genius! Eddie will make $2.7 million next season and has a player option for one more season after that at $2.9 million.
Elton Brand:
You didn't really expect him to remain a Clipper...wait, what? You did? Sucker. Some say this makes the Philadelphia 76ers legit contenders. I say "We'll see."
Gilbert Arenas:
He re-upped with the Wizards for less money than they were willing to give him. I don't know how Agent Zero is going to get by on that $111 million. I also can't help but wonder if his body is going to hold up for the six-year duration of the contract.
James Jones:
The Heat made a five-year pact with Jones, a Miami native. Finally the Heat have the three-point marksman they need to compliment Shaq's lowpost ga...wait a minute...
James Posey:
Helped the Heat win a championship? Check. Helped the Celtics win a championship? Check. Danny Ainge felt those credentials - not to mention hellacious perimeter defense and clutch three-point shooting - was worth three years, but
not
four. Boston's loss, and it was a big one, is New Orleans' gain. The Hornets got a lot better with this signing.
Jermaine O'Neal:
Larry Bird shipped his disappointing forward/center to Toronto, where they are well-used to bitter disappointment. Chris Bosh and crew are very much looking forward to the 40 or so games in which O'Neal will be healthy and able to play.
Josh Childress:
If the Hawks are going to build on their surprising first round playoff success against the Celtics, they're going to have to do it without Childress, who chose a diet of gyros and baklava over the delectable barbecue offerings of the greater Atlanta area. And before you start freaking out, keep in mind that Childress is going to make about $20 million (after taxes) over the next five years, making him the highest paid Euroleague player of all time. This means that they had to break the bank for a guy who averaged 11.8 PPG for a team that barely made the playoffs last season. I guess what I'm saying is: Don't expect a mass NBA exodus to Europe any time soon.
Kelenna Azubuike:
Chris Mullin put his foot down and said, "We're not losing any more players to the Clippers this summer, even if I can't pronounce that player's name!" Azubuike, who averaged 8.1 PPG and 4.0 RPG for the Warriors last season, signed a three-year deal worth $9 million.
Keyon Dooling:
The New Jersey Nets obtained Dooling - who averaged 8.1 points off of the Orlando bench last season - by using the $3 million trade exception they got in the Jason Kidd trade.
Nets coach Lawrence Frank said
: "He's a bubbly guy and that's the way he plays." To which Dooling responded: ""I guess that's a good term. I like being bubbly." I will hereafter refer to Dooling as "Bubbles."
Kostas Koufos:
The Utah Jazz said "Take that, Greece!" by signing Koufos - their first-round draft pick - to a contract that will pay him approximately one meeeeeellion dollars per year. Jazz owner Larry Miller said: "After our second round defeat at the hands of the Lakers, Jerry (Sloan) and I realized we needed to get whiter and stiffer. From that standpoint, Kostas was everything we needed."
Kurt Thomas:
It's never a good idea to make old men move around a lot. So, in that spirit, the Spurs resigned Kurt Thomas to an undisclosed deal. This ensures that Gregg Popovich will have a strong, veteran presence available to tell the young guys what it was like when professional basketball players were paid in bark chips and had to dribble rocks on courts that were uphill both ways.
Malik Allen:
He's taking his 5.7 PPG career average to Milwaukee. I'm sure he just needed a fresh start. Well, that is,
another
fresh start; this is the sixth stop in Malik's seven-year NBA journey. I sense a breakout year coming.
Marcus Camby:
The Nuggets handed him over to the Clippers for the right to swap second round picks in the 2010 draft. They might as well have offered to trade him for a unicorn or Bigfoot. I guess it's become en vogue to hand over All-Star caliber players to teams based in Los Angeles.
Marcus Williams:
Hey, Warriors fans. You can stop worrying. Chris Mullin found a replacement for Baron Davis. And all he had to trade away was a draft pick that's lottery protected for 2011 (the Nets get it only if the Warriors make the playoffs). The pick is protected 1-11 for 2012 and 1-10 for 2013. If they haven't gotten anything by 2013, the Nets will receive second-round picks in 2013 and 2015. So basically, Golden State got Williams for nothing. Which should explain how much value he had in New Jersey.
Matt Barnes:
I guess that retaining Azubuike's 8.1 PPG made Barnes' 6.7 PPG expendable, and the Suns - desperate for warm bodies - happily snapped him up. Suns GM Steve Kerr was pretty excited about it: "He has a chance to have a big impact on our team. His athleticism and versatility at both ends of the court will be important for us, along with his playoff experience." Playoff experience? He's played 11 career playoff games in five seasons.
Mickael Pietrus:
The French defensive force has signed with the Orlando, giving the Magic almost two full players who play "NBA defense."
Monta Ellis:
Chris Mullin cracked open his piggy bank to give Ellis a six-year deal worth $66 million. This means that Mullin values Ellis only $3 million over six years more than Andris Biedrins. I'm not sure how to feel about that.
Patrick O'Bryant:
The Celtics spent the league minimum on this busted lottery pick (O'Bryant went ninth overall in the 2006 draft) because P.J. Brown will probably retire. Didn't they know that Kwame Brown is still available?! We was a number one overall pick!
Roger Mason:
The Spurs signed him in what may turn into another one of their classic moves that nobody thinks anything of until they're winning another championship. Per usual, Gregg Popovich won't disclose terms of the deal, nor the hazing rituals Mason must go through to join the team. However, Mason's agent Mark Bartelstein told The Associated Press that Mason will have to play Dungeons and Dragons with Tim Duncan for "at least 24 straight hours."
Ronny Turiaf:
Once again, the Warriors got all stingy with Baron Davis, but they were willing to drop $17 million over four years on a guy who spent most of his time with the Lakers waving a towel and
freaking out on the sidelines
. Can I please have a little of what Chris Mullin is smoking.
Tyronn Lue:
He spurned offers from the Celtics and Suns to join the Milwaukee Bucks. Makes sense...assuming he's suffering from a debilitating head wound.
Sasha Vujacic:
Thank goodness Sasha didn't flee to Europe. The U.S. needs him! After all, he averaged a career-high 8.8 points, 2.1 rebounds and 1.0 assists in 72 games last season. The Lakers will (somewhat reluctantly) pay him $15 million over the next three seasons.
Sebastian Telfair:
Another masterstroke for Kevin McHale and the Minnesota Timberwolves! Hopefully this will provide an opportunity for Telfair to start working on
Through The Fire: Part II
.
Tony Allen:
Still a Celtic. Still not 100 percent.
T.J. Ford:
The Pacers weren't satisfied with the iffy health and shot-mongering of Jermaine O'Neal...so they moved him for Ford? This is going to go onto the List of Larry Bird's Awesomest Decisions as Pacers President, right up there with keeping Ron Artest about two years too long, trading for 10 years of Troy Murphy and Mike Dunleavy Jr., and anything else you want to name.
NBA offseason roundup
[Fox Sports]
2008 NBA Free Agent List
[ESPN]