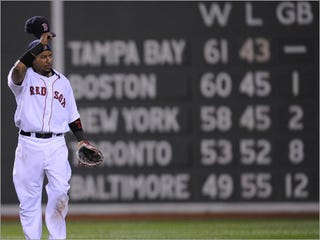 Pretty much everyone agrees that it's doubtful Manny Ramirez would be cast off from the Red Sox before the end of this season. The inexplicable Rays and resurgent Yankees have seen to that. But as far as 2009 goes, don't expect our hero to be hanging around Fenway. He could very well be a Cub, a Dodger an Angel or ... yes, you know it's a possibility ... a Yankee. Here's
what Manny said on Sunday
, prior to Boston's 9-2 win over the Yankees:
"I don't want to talk to them about contracts right now. So what? I know they got me, but enough is enough. I'm tired of them, they're tired of me. After 2008, just send me a letter or whatever. You don't even got to call my agent or whatever. 'Hey, thank you for everything. You're going to become a free agent. We're not going to pick up your option in '09.' "
As George Costanza would say: "A pre-emptive breakup. Brilliant!" But is this what we really want? I just can't imagine Manny being anywhere near as entertaining anywhere else as he is with Boston. With the Yankees he'd be swallowed up in the whole A-Rod/Jeter/Steinbrenner miasma; the Mets have already said no; and no one else could afford him/put up with his shenanigans. Manny as a Mariner? As a Phillie? An Oriole? It's like Jughead without his crown. The only solution is for he and the Red Sox to make up. Come on, guys: There's more than two months left,
and Sunday was a good start
.
Salvage Operation
[Boston Globe]