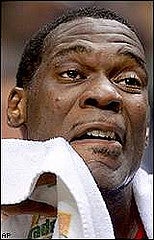 There are a couple of surprises here, first, Shawn Kemp is only 40. Surprising only because Kemp has a daughter who's 32. Second, an Italian basketball team called Premiata Montegranaro has offered him a contract. Of course this report comes via
Ball Don't Lie
(via
The Sport Count
) who claims that
this article
reports that. Only the article is in Italian. And my mom's basement doesn't have a pocket Italian translator. So I'll just assume all this is true. Which is awesome. Because Shawn Kemp has been no stranger to the ladies in America—a country with sexual harassment laws. Can you imagine what Kemp can do in Italy? A country where sexually harassing women is the national past-time? Only good things can happen from this. Well, assuming the pasta isn't unlimited. Only good non-pasta things. Thank you Italy.
Italian MetroNews
[Italy newspaper]
Has Europe gotten it right for once?
[The Sport Count]
The NBA euro exodus continues...
[Ball Don't Lie]