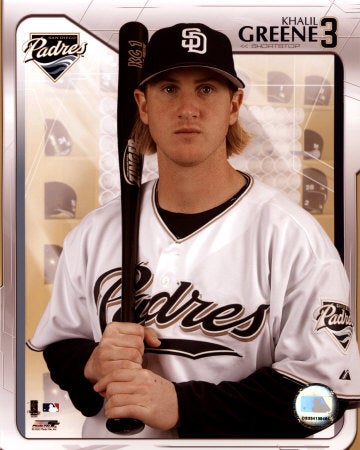 Yep, he broke his left hand. Anyone who has ever punched a wall, a door, or any other inanimate object that hasn't actually done anything to you, is wincing right now. Because but for the puny amount of force your punch mustered, you too could have broken a bone in your hand and looked like an incredible tool. Instead, like his forebear Jesus, Khalil Greene is broken for your sins . Sign on San Diego has the pertinent details:
Greene said the response was more in reaction to a difficult season than his throbbing shin. He is batting .213 with 10 home runs and 15 doubles. "I don't know how to put into words the frustration level, how difficult this year has been," Greene said. "For me to do that, it's certainly not commonplace."
Well, at least Padres fans who are in the midst of a 42-67 last place season can take solace that Greene isn't racist against storage chests.
Greene's left hand is fractured
[Sign on San Diego]
Padres Khalil Greene taken out by storage chest
[SportsbyBrooks]