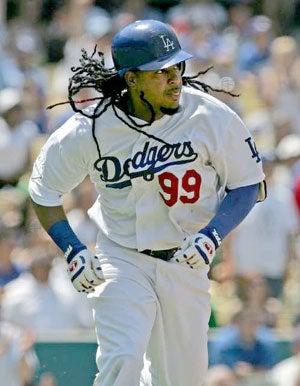 New item at the Dodgers Pro Shop beginning next week: Dodger hat with attached dreadlocks. (This is true). So much for Joe Torre's request that Manny Ramirez get a haircut; that's the last thing Frank McCourt wants to see happen now that his team is making scratch off of its big acquisition. Reason the hats will fly off the shelves: Manny loves the National League. What better place to hit than the worst division in the history of baseball ? Ramirez homered for the fourth time in six games as the Los Angeles Dodgers of Los Angeles avoided a three-game sweep on Thursday in a 4-1 win over the Cardinals. Dodger fans have already spent nearly $200,000 on Manny jerseys and T-shirts since the trade on July 31; quite a bonus for McCourt considering that he's not even paying Ramirez's salary. As for the hair, it's become a trademark in a town that invented the word; the Hollywood sign will be torn down before Manny's deadlocks end up on the barbershop floor. This past Monday, manager Joe Torre asked Manny to get a haircut. If this had happened in Torre's Yankee days, that would be an order. But in LA, it was merely sitcom fodder, complete with laugh track. Torre shrugged it off by making a bet with the LA Times : If Ramirez returns to Dodger Stadium shorn this Monday for the opener of the next homestand, Torre will make a donation to Mattel Children's Hospital at UCLA. If Ramirez shows up to Dodger Stadium without the dreads, the Times will make a donation to the Joe Torre Safe at Home Foundation. And everyone's happy! I'm just glad that Tommy Lasorda didn't live to see this. Meanwhile, as far as the game itself is concerned, for Manny the livin' is easy.
Ramirez, booed throughout the series before each at-bat by fans who apparently remember his 2004 World Series MVP turn in Boston's sweep of the Cardinals, is 13-for-23 with nine RBIs since joining the Dodgers. His 514th career homer was a two-run shot in the third off a first-pitch fastball from Lohse, putting the Dodgers ahead 3-0. "I'm just learning the league,'' Ramirez said. "I like it here.''
Can LA win the division? Yeah ... but then, with a few breaks, the Portland Beavers could win the NL West. The Dodgers are one of two players remaining; at 57-57, LA is 1 1/2 games behind first-place Arizona. Manny aside, what the team needs is more pitching efforts like that from Clayton Kershaw on Thursday, who went seven innings, giving up just three singles and striking out seven, beating 13-game winner Kyle Lohse. And of course there's always the imminent Manny Meltdown, which WILL happen, have no doubt. It's just a question of when and how. But until then, enjoy your dread hats, Angelinos. It's a magical time to be a Dodger fan.
The Fund's Just Getting Started With The Dodgers
[LA Times]