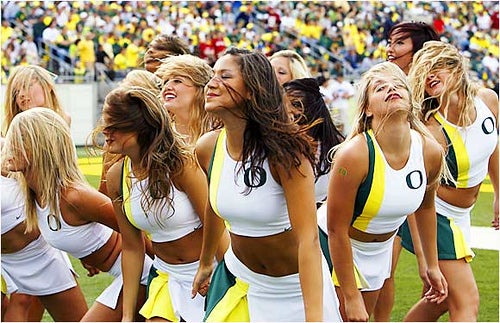 S
We're working our way through the top 25. Dan Rubenstein brings the love for the #20 Oregon Ducks today
.
Strengths
I like the uniforms, whatever. I said it. Let's move on. Oregon's strength starts at the top. Mike Bellotti is going into his 14th season as head coach and it seems like he's going to be in Eugene for the long haul. Coordinators have come and gone, a lot of them to head coaching jobs around the country, but Bellotti is still in charge (with or without the 'stache). Primarily, the Ducks have always been strong offensively, especially last year where they pretty much demolished everyone until Dennis Dixon's knee exploded.This year, despite the deserved praise of offensive coordinator Chip Kelly, the experienced unit (heh, experienced unit) is the defense. The secondary in particular looks to be among the best in the country, with junior corners Jarius Byrd and Walter Thurmond III entering their third season of starting duty (heh, duty), and rover (safety) Patrick Chung coming back to the Ducks after a brief flirtation with the NFL Draft. Also, Nick Reed, a scrappy, slightly undersized senior DE returns after leading the Pac-10 in sacks and TFL. That said, the offense should probably develop pretty shortly into the season. RS Soph Nate Costa (coming off his own exploding knee) is the probable opening day QB, Sr Jaison Williams could destroy the conference if he stops dropping the easy ones, the line has a significant amount of experience (don't forget about the
questionably-costumed beefcake calendar
), and RBs Jeremiah Johnson (another 'sploded knee from last year) and JUCO transfer LaGarette Blount. Off Topic: The swoosh is awesome. Also, the Ducks now have the biggest video screen in the conference, making it that much easier to enjoy the bright unis (the kids love 'em!) and the hands-down best cheerleading squad (I love 'em!) in the country no matter where you are in the stadium. Pervs rejoice!
Weakness
Dennis Dixon, Jonathan Stewart, and two starting offensive linemen are gone. During the offseason, the Ducks have also lost probable starting WLB Kevin Garrett to an indefinite suspension, probable starting WR Derrick Jones to academics and run-ins with the law (no longer enrolled), and most tragic, RS Freshman safety, Todd Doxey drowned last month in a river in Eugene. All three were expected to contribute to different degrees, and it's obviously yet to be seen how the Doxey situation affects the season. In all fairness, the season is pretty much a toss-up. Given how inexperienced and unproven the Ducks appear to be at key positions (QB, WR, DT) and how the schedule looks (USC, ASU, Cal, OSU on the road), they could lose 4-5 games if they quickly lose the momentum of '07. The Ducks have both Purdue (road) and Boise St. early on, both potentially losable games. The front seven is still somewhat questionable after Nick Reed. Like every year, they'll have a couple bad games giving up way too many yards on the ground. Not Washington Bad©, mind you, but still unfortunate. Which brings us to...
Rivalry
Traditionally, you've got your Civil War (OSU) and Border War Game (Washington), but Beavers seem to have more of a problem with Duck fans, where as Duck fans look at the folks in Corvallis as their significantly more "rural" little siblings. Yes, OSU has won two in a row, but last year took double OT with a fifth string RS Fr. QB and a hurried, missed 40 yd FG to seal the deal. Washington seems to be much more fun because they used to be respectable as recently as the early '00s, but are now horrendously bad at playing football in the Pac-10. Look for Phil Knight to do everything he can to keep Ty Willingham in power at UW next year. Two years ago, Pete Caroll yelled "Fuck You, Fuck You, Fuck You" at the Oregon sideline when Mike Bellotti challenged a challenge and won. The Ducks lost the game, but 'lil Petey sure did get prickly. Oh, and Oregon went ahead and beat SC last year, so there's that. Not a rivalry, but fun to see LA's best bandwagon fans get pissy.