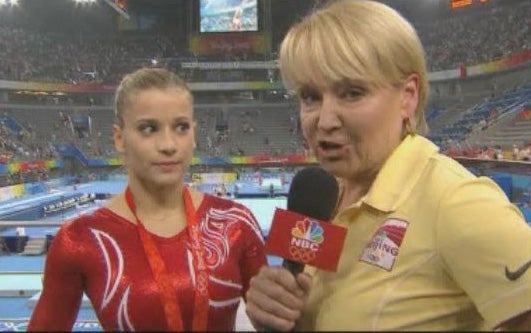 Problem: We want captured terrorist suspects to talk, but conventional torture methods are morally troublesome and politically dangerous. Solution: Andrea Joyce! Judging from the way that the NBC correspondent interrogated emotionally brittle gymnast Alicia Sacramone on Wednesday, I'd guess that Al Queda troublemakers would be begging for the naked pyramid within minutes of her arrival. Poor Alicia. She wasn't expecting the Spanish Inquisition. Of course it was Sacramone's flubs which pretty much cost the U.S. the gymnastics gold on Wednesday, but you know all that. You may have missed this interview , though, in which Joyce laid into the 20-year-old with the reckless abandon of Jim Grey, or perhaps Carl Monday. (NBC has removed it from Youtube, so you'll have to download their special plugin to watch it. And enjoy the beer commercial, young gymnastics enthusiasts!). The questioning went something like this: • "Take us through what was swirling through your head ..." • "Do you blame yourself? ..." • "You're the emotional leader and team captain. Did your mistakes rattle the rest of your team? ..." • "What was going through your head when you fell off the beam? ..." • "You worked a long time to get here; what were you thinking? ..." And that was only the opening salvo. Joyce continued battering her opponent until Sacramone started to cry at the end, and NBC mercifully ended the video. But I expect that Joyce continued the questioning after the video was cut off. "Why are you such a LOSER?" "Oh, are you gonna cry now? Huh? Are you gonna cry, little girl?" (Later, outside Sacramone's hotel room door): "What are you feeling now, Alicia? Are you ashamed? ... Your failure SICKENS me!" Meanwhile, U.S. gymnastics is blaming stadium officials for the loss to China, saying that their mistakes caused Sacramone to lose concentration.
US team coordinator Martha Karolyi said officials at Beijing's National Indoor Stadium had disrupted Sacramone's preparations for the beam. "First they called her name up, then they did not even put her name up even though the Chinese had finished ... (it was) totally unusual holding," she said. "She was mentally prepared and then she had a mental break, then after not doing the job, the beam, on the floor exercise her concentration was bothered."
That's kind of reaching, in my opinion. But I do think that it was wrong when the Chinese coaches coughed loudly and said "Noonan!" each time Sacramone attemped a difficult move.
Alicia Sacramone Could Punch Andrea Joyce And I'd Be Fine With It...
[Sedano Show]
US Blame Stadium Official For Gymnastics Loss
[Breitbart.com]
Broken Ankle? Chellsie Memmel Lands On It
[Los Angeles Times]