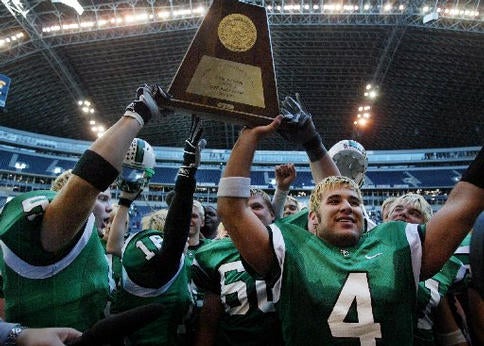 Stop laughing Missouri fans. Sushi is coming to Southlake Carroll—Heisman Trophy candidate Chase Daniel's high school. I'm told that's him, #4, celebrating his state championship. Predictably the decision is being met with marketing difficulties. "I always pitch it as healthier chicken nuggets," Dawson tells the Star-Telegram . That's at best a solid single in terms of marketing. This is Texas though. Everyone knows that beer and executions are much more popular than chicken nuggets. So might I suggest, Sushi: The Beer That Kills. Regardless, they are going to have to produce a ton of it. Because the high school football stadium seats 10,200. This decision has not pleased Buzz Bissinger. The Dallas Morning News caught up with him to gauge his reaction :
"It sounds like Texas high school football has gone soft," he said from his home in Philadelphia. "The idea of serving sushi at a Texas high school football game just flies in the face of everything I know about Texas high school football. "What are they going to serve next, penne pasta?" Mr. Bissinger said. "Let's get back to good ol' fashioned Texas barbecue."
The sushi will be served from tiki huts. After an exhaustive investigation the Star-Telegram confirmed that the closest delicacy currently served at Texas sporting events was...popcorn shrimp. Great.
Carroll Dragon fans can go for sushi this fall
[Star-Telegram]
Southlake Carroll rolling out sushi at high school football games