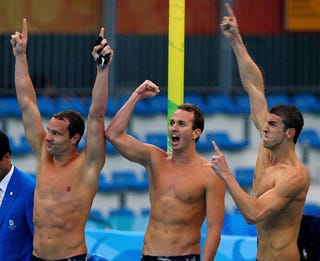 Michael Phelps has just made history by eclipsing Mark Spitz's record of seven gold medals in a single Olympics with a win in the 4x100 medley relay in Beijing. Phelps maintained a small lead swimming the butterfly in the race's third leg and once again it was Jason Lezak holding off the opposition in the race's final 100 meters. While the Australians kept things close the whole way, Lezak was not about to be overtaken. (
UPDATE: Video after the jump courtesy of Awful Announcing
) Aaron Piersol and Brendan Hansen swam the backstroke and breaststroke respectively in the race's first two legs to help Phelps earn his 14th gold medal at just 23 years of age. Phelps has concluded his run in the Beijing as the most decorated athlete in Olympic history, now all that's left to determine is where he ranks amongst the greatest athletes in the world. Of course
Shanoff
is ready to declare Phelps the GREATEST.HUMAN.EVER., but ESPN will probably want to make things official with one of their ultra-scientific bracket competitions (seriously,
who does that
?). I assume the Sklar brothers are already hard at work with some assistance from Joe Lunardi, Nick Bakay, and the cast of
Beverly Hills Chihuahua
. Sure, Phelps has conquered the swimming world, but only time will tell whether or not he can defeat Lance Armstrong, Secretariat, and Jim Thorpe. God bless you, Disney.
Photo Credit: Getty Images via
Yahoo! Sports