Today's Texas Tech preview of pirate head coach Mike Leach is brought to you by Stephen Hagen. He's a Texas Tech alum and he hates A&M with unmitigated fury. So with only ten days until kickoff, enjoy his preview. Also, again, I'd like to apologize to all the people who wrote in requesting to do a preview. We just had so many requests that if you haven't heard from me yet, we're set.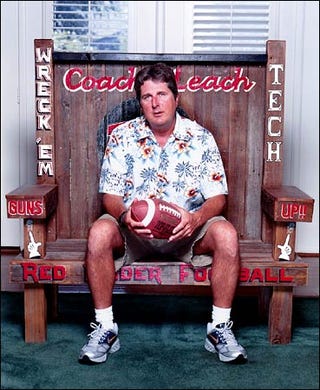 Quarterback Graham Harrell and last year's Biletnikoff Award winner, Michael Crabtree, lead Texas Tech into what they hope will be their break through season in both the Big 12 South and the BCS. Texas Tech returns 18 starters (ten on offense) and rides its highest preseason ranking in 31 years in this season's quest to escape its reputation as the "also ran" of Texas college football. Harrell returns for his senior year and his third as a starter after once again putting up "holy shit" statistics last year (5,705 yards, 71.8% completion, 48 touchdowns and 14 interceptions is difficult on PlayStation even when you're sober). Crabtree came into last year with expectations that he would contribute immediately, and put together such an outstanding year that he avoided the "system player" knock. Besides the two big stars, Tech has more depth and talent on both sides of the ball than ever. If the breakthrough doesn't happen this year, then I'm giving up on football and throwing all of my support behind
Tech's Meat Judging team.
Mike Leach is entering what I think is his ninth season with Texas Tech (I can't be expected to confirm this. I'm a fucking volunteer writer.) They call him the Mad Scientist. I don't particularly like this nickname because (1) he's a lawyer by training, not a scientist, and (2) although he's peculiar, he doesn't exhibit any signs of dementia. Nonetheless, he's done a damn fine job. Regardless of whether we make big waves this year, he's made Tech recognizable and relevant. That is no small task at a university with a relatively isolated campus that has to compete with Texas, Oklahoma, Aggieland, etc., etc.
Strengths:
It's Texas Tech, so unless you've been in a coma the last 8 years, you know their strength is the passing game. They shouldn't miss a beat this year with ten starters returning. Crabtree's numbers will likely decline because of the added coverage he will draw. He's still a badass and should open things up for other receivers like Eric "The Elf" Morris (5'8" 177lbs), Edward Britton, Detron Lewis, and a handful of others. Seriously, in an average season, 15 or 16 guys catch a pass. At least early on, running back will be by committee with Shannon Woods, Aaron Crawford, and Baron Batch. Each of them is in the slightly undersized 5'11" 200lbs mold and they're each pretty good in the open field. The entire starting offensive line is back (although a couple of the starters are being challenged for their spots). The O-Line averages about 6'5" and 325lbs., and only gave up 18 sacks in 763 pass attempts last year. They also handled Chris Long pretty well last year in the Gator Bowl. (Side Note: If you watched that game, you know that Chris Long plays like someone put PCP on his cornflakes and lit a block of firecrackers in his ass.) Louis Vasquez is the name to remember, at least as the season begins. Gratuitous Leach Quote #1: "If you get into a fight, don't take your helmet off. We're looking for smart football players, not dumb ones. In the interest of time, don't get into any more fights today."
Weaknesses:
Six months ago, I would say Tech's biggest weakness is that they let opponents stomp a mud-hole in their ass with the running game. However, Tech has added a lot of quality depth to their defensive front seven in the off season (Tech only played 3 guys at DT last year in their 4-3 system). Chris Perry, Brandon Sesay and McKinner Dixon are all newcomers that should all contribute to the D-Line this year. Sophomore Coby Whitlock and junior Brandon Williams each appear to have the ability to play on Sunday. That being said, the real weakness is consistency, both throughout the season and in individual games. There's no room for a
horrible loss to a bad team
like years past with Colorado, Oklahoma State, Iowa State, New Mexico, etc. Look no further than the last two bowl games for inconsistent play within a game (overcoming deficits of 31 and 14 points due primarily to inconsistent play and penalties). Although it is especially not cool to get a 21 point first half lead on Texas, prompting me to leave a buddy's wedding reception in downtown Atlanta on Halloween weekend in search of a sports bar, then give up the lead and lose leading me to drunkenly scream at a television in the corner of said sports bar, all the while surrounded by southern metrosexuals in clever Halloween costumes. It was demoralizing to say the least. Gratuitous Leach Quote #2: "We played two games out here today. We played a very poor one the first half, and we played a pretty good one the second half. The first half, Baylor's three defensive lineman consistently whipped our five offensive linemen. I'm very disappointed with the first half, pleased with the second half, so it's kind of a love hate game really."
Rival:
Aggieland refuses to acknowledge that Texas Tech is their rival. The fact that we've beaten them in 10 of the last 13 games makes me obliged to focus on them. It may surprise people unfamiliar with the Big 12, but I shit you not that most Aggie fans think A&M has a top 15, if not top 10 program. Thus, they cannot be bothered with lowly Texas Tech (I'm not making this shit up.) Maybe taking only three days to find a new coach,
but more than 3 months to find a new mascot
. (Reveille VIII was introduced on August 11) is what leaves Aggieland from being our "rival in denial" to being our "trap game" at best. Also, we kicked the shit out of them in Meat Judging last year. Gratuitous Leach Quote #3: "Yeah, you've just got to work around the Corps. I think it's one of the greatest settings in college football, and they've got those guys with swords marching around. I'll make my annual plea that I think the opposing team should be given some swords too, and after the game, we'll give them back so the next opposing team can use the swords. I don't think it's fair that just one side should have swords. But I do think the Corps, in and of itself, is impressive. They march around there and sometimes you have to dodge between columns to get to the locker room, but you work through that."