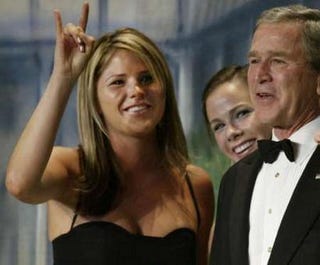 At long last, we enter the top 10. Your author is Peter Bean of Burnt Orange Nation. He's also the author of The Eyes of Texas 2008. You'll be happy to know that the above picture of Jenna Bush rocking the longhorn sign sent Muslim hearts spinning because they believed it was a sign of Satan. Oklahoma and Arkansas natives have never felt so in tune with their Muslim brothers. Without further ado, here we go.
TEXAS' GREATEST STRENGTH
William Larry Muschamp. I shouldn't have to elaborate, but this is Deadspin, where college football has for too long been an afterthought. A word of advice: Don't let Will Muschamp find out. So intense is Texas' new defensive coordinator that starting linebacker Roddrick Muckelroy
has dreams about Muschamp yelling at him
for screwing up. Will Muschamp is the guy who
screams profanities
on national television, a man so intense his disciples wouldn't blink if they saw him grab a bird from mid-flight, bite off its head, and then scream at its decapitated carcass for being too dumb to realize it shouldn't be flying nearby. He's read that list of things Chuck Norris can do. And he hopes to meet the man himself so he can spit on his nappy beard and tell him that Texas Walker Ranger was a crime against humanity. Will Muschamp thinks 'defense' is a misnomer. Because he's training a war machine in Austin, and with it he intends to impose his will. The defenders this fall will be the pale-with-fear offensive linemen worrying about how to avoid having their quarterback killed. He is Will Muschamp. Wear a helmet, motherfuckers.
TEXAS' GREATEST WEAKNESS
On the flipside, every Texas fan should tell you the only thing standing between the Longhorns and a national title run is
The Mack Clap
. If Will Muschamp is everything that is dark and angry and aggressive, The Mack Clap is the yellow ribbon from junior high that sissified parents hand out to everyone who participates. A visual and auditory reinforcement of failure. Too much love. Acceptance of the idea that trying hard is okay. It is not. Winning is okay. Everything else is just frill. This is the internal battle brewing in Austin, between the way things have been (Vince Young era excepted) and the way Will Muschamp wants them to be. If
this is the Mack Brown you see this fall
… look out.
A SHOT AT THE RIVAL
This summer
Orson
and I
devoted a podcast
to imagining the wine critic Robert Parker as a college football connoisseur. On Oklahoma, I can't imagine a better way to describe them than how I imagined Robert Parker might: "Oklahoma: as though Franzia had discarded the box concept in favor of used kerosene drums, a repugnant combination of biting acidity and malodorous toxins, packaged for sale to the lowliest lifeforms on Earth. As far as I'm concerned, the sooner—pun intended—we return the entire state to the Native Americans, the better." Amen. Hook 'em.