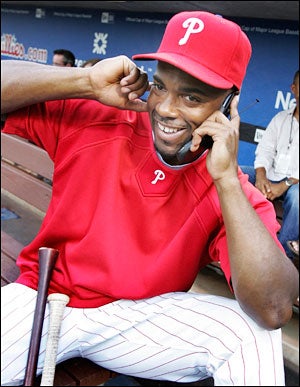 Jimmy Rollins' love affair with the city of Philadelphia continues. Last week he called out Phils fans on
Best Damn Sports Show Period
, decrying their notorious negativity and calling them "front-runners." That caused a Philadelphia blogger to
organize an Internet campaign
to try and get fans to cheer wildly at all times during Tuesday's game at Citizen's Bank Ballpark against the Washington Nationals. But "Campaign Cheer" was somewhat of a flop, Rollins was booed as usual (going 0-for-4 helped), and conditions in the area remain crabby. One good thing has come out of the whole mess, though: A new Phillies catch phrase. From
The Fightins
:
Noble experiment though it was, "Campaign Cheer" failed in its quest to persuade the faithful at Citizens Bank Park to refrain from making all but the most supportive noises. The urge to boo Jimmy Rollins was too great to resist, and watching the shortstop go hitless again did little to soothe the savage beasts. ... If nothing else, the outpouring of Rollins' soul brought forth what may be my favorite J-Roll quote, ever: "In Philly, can't be no punk."
Rollins remains unwilling
to put this thing to rest
:
And he again talked about how booing has, in the past, affected some of his teammates to the point where "they're halfway defeated before they get up there" to the plate. He also added that potential free agents have come up to him in the past and asked about the Philadelphia fans and said things, "Most of 'em, you can't repeat." Rollins said that players have said they don't want to put their families into this kind of situation, "That's just the truth."
Wow. So Rollins is actually saying that potential free agents are spurning the Phillies because of their mean, negative fans? That should calm the waters. This all seems to agree with the rest of the team, by the way.
Wednesday's 4-0 win over the Nationals
was Philadelphia's fourth victory in five games.
Only Some Boos Kick In
[Philadelphia Daily News]
You Can't Say We Didn't Try, Jimmy
[The Fightins]
Cheers, Boos About Evenly Split
[Philadelphia Daily News]