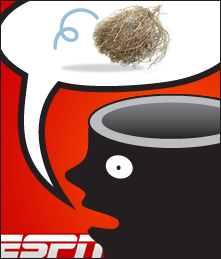 ESPN scoured its message boards to find its cleverest, boldest, most enlightening comment, and chose this one above all others ...
• "Game ball goes to Scola. In a losing effort he was easily the best player on the floor." —
haze1205
Re: U.S. vs. Argentina basketball
Previous ESPN Featured Comment of the Week, plus a Featured Deadspin Response or two ...
• "Incredible. If he isn't the greatest Olympian ever, who is?" —
Stlrsfanforlife
• Incredible. If women's beach volleyball doesn't give us the best chance to see a simulated lesbian love scene, what does?— NBC Sports on why their Olympic coverage features non-stop coverage of this "sport." (
Whore of Babylon
) • ...seriously, I need someone to tell me. My doctoral thesis is due in an hour. (
Metroville
) • Inconceivable. No one in Guilder knows what we've done. And no one in Florin could have gotten here so fast. (
HIV 2 Elway Resurrected
)