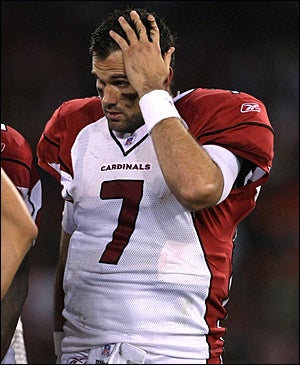 One of the most amusing parts of the whole "Costas Now" fiasco was when Cleveland Browns' wideout Braylon Edwards took the time to chime in (briefly) about his "take on blogs" and used the Matt Leinart post with Leitch's headline "
Matt Leinart Is Taking His Offseason Film Work Quite Seriously
" as his ammo. Edwards contention was that the assumption was unfair to Matt and that the quarterback's private backyard beer-bong parties really had no impact on how the man does his job. This could be entirely true and Leinart may very well have had every intention of securing his position as the savior of the Arizona franchise this season. But for some reason, he still can't get it done. Chris Mortensen
reports that Arizona Cardinals head coach Ken Whisenhunt
will announce the gray-stubbled Kurt Warner as the Cardinals' starting quarterback for Week 1. Warner hasn't dominantly out-played Leinart this pre-season, but Leinart's uninspired quarterbacking and Saturday's dreadful three interception performance against the Raiders didn't help his cause. Whisenhunt
made sure to say
that this season isn't a "make or break one" for Leinart and still thinks he could someday be a "good quarterback" in the league. This is only his third full-season and his time on the field has been limited due to injuries (mostly) and inconsistency. But The questions about Leinart's leadership abilities and maturity level will be on full display during this stage of his career. Whisenhunt said he hopes this latest setback makes Leinart "tougher" and benefits him in the long run. So far, however, Leinart seems poised to become the poster boy for NFL mediocrity disguised as greatness; he's a brilliant marketing tool with a handsome face and harem of women who helped the Arizona Cardinals shed some of their nerdiness and gave them gossipy coverage in the national media. But the "good" part, well, that will once again have to wait.
Source: Cardinals Set To Name QB Warner As Starter
[ESPN]
Best Player Will Play In Season Opener
[Scout]