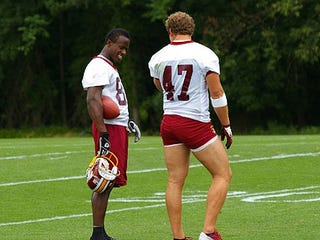 Drew Magary's Balls Deep column runs every Thursday afternoon. Drew's new book, "Men With Balls," released October 27th and featuring 100% new material, is available for pre-order here. You can email Drew here. Read him during the week at KSK.
When we started KSK two years ago, I did a series of phony interviews called
10 Yards Of Awkwardness,
where I "asked" various players retarded questions and then had them give non-answers. It was fun, but I've always wanted to find a real player to give me
real
non-answers to my fusillade of blithering idiocy. And I'm pleased to say I've finally found one. Kind of. It's Redskins All-Pro tight end, part-time
blogger,
and full-time hotpants wearer Chris Cooley, who is fast becoming the NFL's answer to Gilbert Arenas.Chris agreed to sit down for an interview with me. He also took me up on the option of answering "no comment" to every question. When you see the questions, you'll understand why. But, as far as I'm concerned, it still counts as an interview, fuckos! Watch out, Barbara Walters. I'm coming up on your withered old ass. ALL THE SOFT LIGHTING AND FACELIFTS IN THE WORLD CAN'T HIDE THE FACT THAT YOU ARE OLDER THAN DEATH ITSELF. I'd like to make this a semi-regular feature here at Deadspin, so if you're a pro or college athlete, coach, broadcaster, columnist, attractive sideline reporter, mascot, or team masseur who'd like to subject yourself to a grating, no-win interview,
just email me!
There's no better career move! I can help improve your Q rating by least .00000008 points. You can thank me afterwards. Onto the questions!
Chris, thanks for taking time to sit down and talk with me. The Redskins recently acquired Jason Taylor. You're white. How much has he helped improve your dancing?
No comment.
The other week, you wrote on KSK that training camp was as fun as a "bag of dicks". Tell me, if you leave a dirty bag of dicks in your locker overnight, does the Redskins equipment manager replace it with a bag of fresh, clean dicks the next morning?
No comment.
You recently married a Redskins cheerleader. You also went to school in Utah. Just how many Redskin cheerleaders do you plan on marrying?
No comment.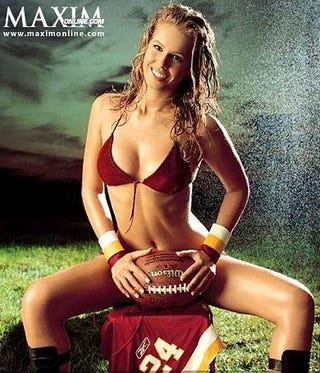 Your wife (pictured above) was fired by the team after it was revealed that you two were then dating. Is it difficult to play for a team that fired your wife over a rather minor conflict of penis?
No comment.
The Washington Post reported that, when your wife turned 21 last year, her father and you did 21 shots apiece. Don't you realize that was a classic father-in-law trap? One second, you've got yourself a new drinking buddy. The next, he's getting you to confess about that time you ran a train on a group of girls from the fat sorority.
No comment.
You're originally from Wyoming. Let me ask you: is Wyoming really all that necessary?
No comment.
You once wrote that your wife "dressed to make men panic". Does that mean she walks around with a t-shirt saying "I'M GONNA CHOP YOUR DICK OFF!" or something like that?
No comment.
Jim Zorn: Underwhelming coach, or the underwhelmingest coach?
No comment.
Zorn will be the team's head coach, offensive coordinator, and QB coach. Why not the team keyboardist as well?
No comment.
Last season, Michael Wilbon wrote that Sean Taylor's death didn't surprise him in the least. Do you think it would surprise Michael Wilbon if I shat in his kir royale?
No comment.
You recently posted your pregame iPod playlist. It has David Gray on it. David Gray? Really? More like David GAY!
No comment.
Can you tell me what sort of crazy characters Clinton Portis plans to dress up as this year as a way of distracting people from the fact that he's on the downside of his career?
No comment.
Portis gave you the nickname "Johnny White Boy". Does it bother you that Portis clearly put more thought into his own nicknames than the one he gave you?
No comment.
Did Joe Gibbs ever strike you as kind of fellow who has problems trying to set an alarm clock?
No comment.
Now that coach Gibbs is gone, do Redskin players still have to tithe?
No comment.
Is it a relief to know you don't have to pretend to give a flying fuck about NASCAR anymore?
No comment.
When Joe Gibbs was hired, it was promised as a "return to glory". Do you believe Jim Zorn's hiring symbolizes a return to the time before the return to glory?
No comment.
If Vinny Cerrato were a barnacle, what kind of barnacle would he be?
No comment.
I once heard Dan Snyder likes to dress up in Batman Underoos, and then makes Vinny Cerrato put on a tux and refer to him as "Master Wayne." True?
No comment.
Who's the gayest player in the NFL? Is it Marvin Harrison? Because he strikes me as crazy gay. Like, Ernest Givins gay. Am I right?
No comment.
Al Saunders was notorious for having a 600-page playbook. Tell me, what exactly was on those 600 pages? Because I saw Saunders' offense, and it didn't appear to have any set plays of any kind. Was the book mostly just a compilation of tablature from Yes songs?
No comment.
When Gregg Williams wasn't hired as Gibbs' replacement, how did you celebrate?
No comment.
Gregg Williams strikes me as the kind of guy who really likes yelling at waiters. True?
No comment.
I used to be a big fan of Roy Firestone and the creature living on top of his head. One of things he used to do when he interviewed athletes was play word association. So I'm going to give you a word or phrase, and I want just a one-word response. Off the top of your head. Totally stream of consciousness and 100% inane. You ready?
No comment.
Santana Moss.
No comment.
Joe Bugel.
No comment.
Cashews.
No comment.
Hiroshima.
No comment.
Cock Swabber.
No comment.
Syrup-Drenched Monkey Balls.
No comment.
Will you consider kissing me?
No comment.
C'mon, man! I was once accused of having an aggressive tongue, but I've managed to rein in "The Probe". Just a little buss?
No comment.
Chris, thanks for taking time out to answer my questions.
No comment.
NOTE: This is the last Balls Deep column of the year. Because next week is the start of the NFL season, and that means the Jamboroo returns. Thank. Fucking. God. See you then.