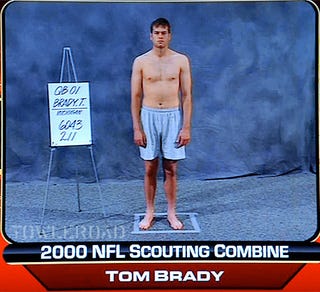 In a really fascinating article and very well written piece, Brady's E, Will McDonough, is credited with the quarterback's rise from awkward media interviewee to a stylish, model-dating, European-vacationing metrosexual. Depending on your particular persuasion this either makes McDonough the anti-christ or Jesus. Meet Tom Brady's one man entourage, a 28 year old guy who joined the Patriots in 1997 as an intern and now
takes care of everything Brady
. Including introducing him to Gisele. From Boston Magazine:
Their relationship raises eyebrows, not least because of its clandestine nature. On the Patriots' payroll until this past February, McDonough has now left the team to handle Brady's affairs on his own. He has no official title. His business card simply lists his name, phone, and e-mail. It's all so East Berlin. Among both casual observers and Brady's friends, the question comes up time and again: Just what in hell does Will McDonough do? No one fully knows.
Whatever you're doing, just read this article.
"There was McDonough partying with members of the team at Union Bar & Grille. There he was flying with Brady to Lindsay Lohan's New Year's bash. There he was shooting bull at Sonsie with new BC football coach Jeff Jagodzinski and Robert Withers, an executive at Marquis Jet, a private airline Brady uses. (Neither Jagodzinski nor Withers responded to interview requests.) The people at Sonsie say McDonough became such a regular at the swish establishment and entertained so many heavy hitters there that the owners decided to name a drink after him. It's called the Will Thrill. Ingredients: Stoli orange vodka, Citrónge, and orange juice topped with sparkling wine."
No matter what though, don't look Will McDonough in the eyes. You'll turn to stone. "Having the ear of Boston's mightiest celebrity grants power. It also inspires dread. Of the several dozen people contacted for this story, only a handful would allow their names to be used. Even Don Yee, Brady's longtime agent, quickly retreated under questioning, deferring to McDonough himself."
He's with Tom
[Boston Magazine]