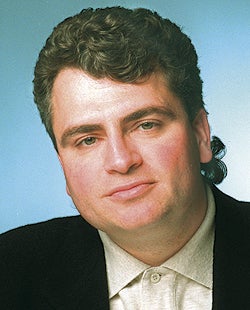 Details are beginning to trickle in on Jay Mariotti's sudden resignation from the Land of Newsprint, and it's pretty much what you would expect: Jay quitting in a hissy fit over a perceived slight. According to two reliable sources, Mariotti, just back from Beijing, wanted to write a column on Barack Obama. But it wasn't Jay's turn to write — it was Rick Telander's — and Telander also wanted to write on Obama. And we
know how Mariotti feels about Rick
. Sun-Times says no, Jay, wait your turn.
Here's Telander's column
. And so Mariotti, showing the maturity he's famous for, calmly assessed the situation and figured he was not going to let it bother him. Just kidding! He threw a fit worthy of a three-year-old. Then this bit of greatness: Mariotti resigned, and then headed to the Sun-Times office to tape his Around the Horn segment, only to find that his security pass had been deactivated while the paper was deciding whether or not to accept the resignation. They finally accepted it. Can't wait to tune in to see if Jay appears on ATH today from a local Starbucks.
Controversial Columnist Jay Mariotti Resigns From Sun-Times
[Chicago Tribune]