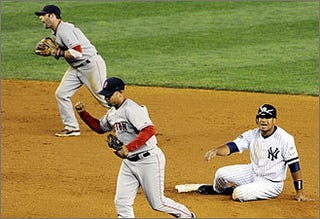 Let it be known that the Yankees officially succumbed in the AL East last night; time of death 10:27 p.m., EST. It was all Alex Rodriguez's fault, of course. The only question is, what shall we call him after his 0-for-5 performance in a 7-3 loss to the Red Sox?
Boo-Rod? A-Flop?
A-Rod And Out? A-Wad? (Not even sure what that means). Or my personal favorite,
Double Play-Rod
. Or, you can mix and match! Boy, the New York media is fun. In Milwaukee they just say you suck and move on to the beer bong. Rodriguez grounded into two double plays — one with the bases loaded — made an error and struck out to end the game as the Yankees welcomed Boston in the first of a three-game series; the Sox's last ever in the current Yankee Stadium. Jason Bay drove in two runs as the Rose Hose Red moved to within 3½ games of first-place Tampa Bay, and remained 2½ games ahead of Minnesota in the wild card race. "Tonight I [stunk]," Rodriguez said. "Tonight put it on me." OK, but I wonder what he said instead of "stunk?" My mental profanity Rolodex is coming up empty. What an unfortunate thing to happen in front of a sellout of 55,058, including Tiger Woods and Fred Couples, whom I'm sure weren't there to see Jose Veras. Although I've been wrong before. Andy Pettitte continued sucking by giving up six runs, 10 hits and three walks over 4 2/3 innings. Tim Wakefield got the win, using no pitches with enough velocity to break a spider's web.. New York can still win two of three in their final Red Sox homestand, but I wouldn't bet any of Tiger's money on it. New York is down 9 1/2 games to the Rays. And you come away from this getting a clearer picture of the Alex Rodriguez legacy in New York. Yeah, he often gets a raw deal, and expectations are unreasonably high. But every time he has a chance to beat down the demons, A-Rod seems to find a way to fail in spectacular fashion.
Yankees Run Into A-Wad Of Trouble
[New York Post]