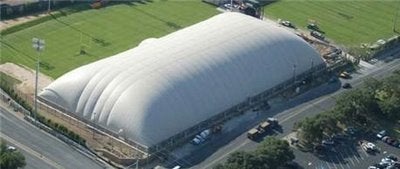 Pitchfork Nation brought us our Arizona State preview. Now, they bring us a first hand report of the storm that completely destroyed the brand new indoor practice football practice facility at Arizona State . The Dennis dome is pictured above in happier times. When it was still standing.
The dome opened at a cost of $8.4 million in July. Tonight's storm wasted it in the span of about 45 minutes. I was parked by Four Peaks Brewing Company around 9:45 tonight and a gust of wind nearly picked up one side of my car. Power went out from about 8th Street and north at about the same time and in some places has not been restored. The following are my eyewitness pictures from the northeast corners of Arizona State University at around 1:00 AM. The storm hurled pieces of the Dome across the north campus. We saw pieces of the canvas and of insulation as far away as Sun Angel Stadium and even a sizable chunk lodged in the trees and fence surrounding Packard Stadium.
How this will impact the Arizona State season is unknown as of yet. Presumably the team will continue to practice outside and tomorrow's home game against Northern Arizona won't need to be altered. But the field turf and excitement from
this announcement a month ago
, yeah, that's over. "The new indoor practice facility with FieldTurf will further enhance ASU's reputation as having outstanding athletic facilities. The facility will include 103,500 square feet with a 75-yard practice field (with an end zone) and a 45-yard practice field (with an end zone)." ASU is just fortunate the storm hit at night.
Pictures: Dennis Dome is done
[Pitchfork Nation]
Storm downs trees, football facility
[ASU Student Newspaper]
Arizona State selects field turf for new facility
[ASU News]