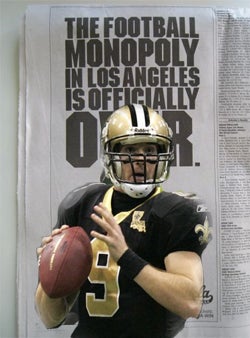 An unidentified partner of the man trying to bring the NFL back to Los Angeles told a local paper earlier in the week that he had "no doubt" that the city would be home to a pro team in 2009. And we report that with all apologies to USC. Of course, no team has been identified by the league (or anyone else) as a candidate for the LA market, which turns this whole scenario into one big game of "he said, nobody said."
Majestic Realty Vice President John Semcken, who is partners with developer Ed Roski, Jr., said Tuesday, "We are going to have a team here next September." According to the report, any facilities – interim or permanent – should be able to accommodate not one, but two NFL teams.
The interim site in question is the Rose Bowl, who Semcken indicates could also host a second NFL team at the same time. Which begs the question: If these guys aren't full of shit (and that remains to be seen), what team are they going to lure to the area? Let's ask our resident NFL expert, Mr. H. Gustav. Any ideas on what team could be heading for California, Mr. Gustav?
Local Official: NFL to Return to Los Angeles in 2009
[Biz of Football]