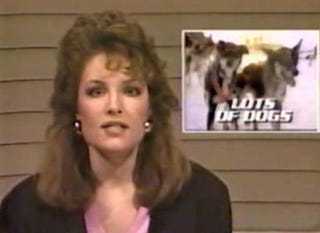 In case you were out doing what normal people do over a long weekend and missed it, we found an old Sarah Palin video from her days as a sportscaster at KTUU-TV in Anchorage, Alaska, and posted it early Saturday evening.
Here it is
. A lot has happened on the Palin front over the weekend, including further revelations concerning Troopergate, and Babygate, and this video, which we will call BigHairGate. But if you're like me, you're wondering who keeps 20-year-old tapes of the Alaskan 10 o'clock news? A commenter sheds some light on that, plus a couple of other questions we all have about the video. From Ed Glosser, Trivial Psychic:
Here's more info about that clip: This must've been the 10:00 news because a guy named John Tracy would be doing the 6. The two anchors are Maria Downey and Ken Garland. Downey is still around. Palin must've stunk because around that time they added a guy named John Carpenter who (by Alaskan standards) was way better. Also, Carp never said "pullin'", "slappin'", or "hittin'", and unlike Palin, he moves his head when he speaks. I grew up in Anchorage and I can say definitively she's the worst sports anchor any station there has ever had. Why record that? "Cheers" used to come on at 10:30. Maybe the timer on the Betamax kicked in early.
Other featured Deadspin comments: • That clip made me want to watch Fargo again. You betcha. (
VTBen
) • I'm pretty sure Spiro Agnew delivered a number of Radio Broadcasts about Dog Sledding. (
The Kurt Rambii
) • I think the thing that we all overlooked in this video is that the Knicks sucked even back then... (
hutchirish
)