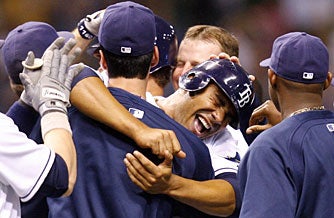 In case you haven't noticed, we're into September and the Tampa Bay Rays are still in first place in the AL East. This is no longer a joke, people; they could actually win this thing. The Red Sox relegated to the wild card race? The Yankees, out of the playoffs entirely? How did this happen? The Rays are in first by five games over Boston, even though playing without left fielder Carl Crawford, third baseman Evan Longoria and closer Troy Percival. What the fungus? Well, the folks at The Zone Blitz have been doing some research, and they think they've uncovered Tampa Bay's secret (eat it, Elias Sports Bureau).
It appears Carlos Pena has signed the taco two years straight. Since signing the taco, Pena had hit 71 homers (as of Aug. 17, 2008). His previous six seasons before signing the taco, he had a combined 86 home runs. Coincidence? You be the judge. This has gotta be the catch phrase that sweeps the nation: "Sign my taco."
This is not a euphemism, by the way. Pena actually autographs tacos,
as seen in these videos
. If the Rays were smart, they'd make a key minor league move and purchase the contract of
Henry the Puffy Taco
, the mascot of the San Antonio Missions. The Rays — who have never had a winning season in their history — have six games remaining with the Red Sox and six with the Yankees; beginning tonight at Tropicana in the first of a three-game set with New York. Rays fans need to put this thing in overdrive for the home stretch. Get out to Tropicana, and bring your signs extolling the great and powerful taco. It's up to you.
Carlos Pena, Please Sign My Taco
[The Zone Blitz]