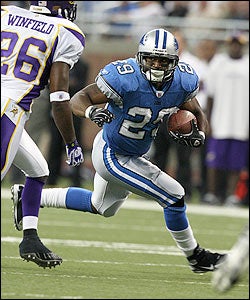 Yep, this is EXACTLY what the Lions needed. Our story so far: Rudi Johnson arrived at Lions headquarters on Monday to make a deal to become their backup running back, when his two large Gucci dufflebags were stolen from outside of CEO Matt Millen's office. Video surveillance cameras revealed that it was Tatum Bell who swiped them; the same Tatum Bell who was dropped from the team when Johnson came on board. Oh no he din't! Johnson got the bags back, but empty. Missing was about $200, some credit cards, his identification and poo-poo undies. Bell, however, claims innocence . (Said in Eddie Murphy voice): "Is there a problem, officers?"
Reached by phone, Bell told the Free Press that it was a big misunderstanding. He said defensive end Victor DeGrate, whom the Lions released Saturday, asked him to pick up his bags for him. He picked them up in the computer area of the locker room and took them to a female friend of DeGrate's. He said he never opened the bags, did not have anything of Johnson's and asked Johnson if there was anything he could do to clear his name. "I ain't no thief," Bell said. "I ain't never been one, and I ain't never going to be one. "I tried to talk to Rudi yesterday, but he was pretty upset, so I let it go," Bell said. "I come to find out the bags weren't whose I thought they was. It was just an honest mistake."
I know; that kind of thing happens to me every day. Johnson says he doesn't believe Bell, but he's not pressing charges. Aside from having a more confusing plot than
Syriana,
this story is interesting fodder for any teams who may have been thinking about signing Bell, who is now a free agent. Downside: May be a luggage thief. Upside: Carried bags all the way uptown without dropping them.
Bell: 'I Ain't No Thief;' Lions' Johnson Won't Press Charges
[Detroit Free Press]