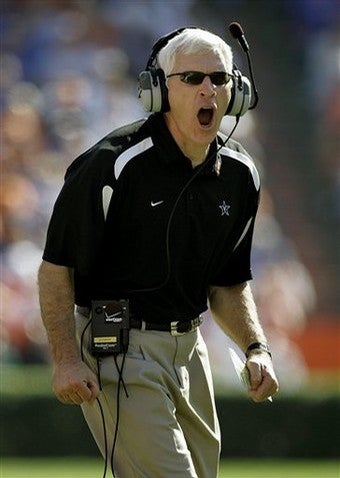 Which, to be fair, would mean a bunch of their players would excel at Penn State. Tomorrow Vandy hosts South Carolina in the Thursday night ESPN game of the week. Today, you can read about their admissions standards and compare Vandy's players to the rest of the SEC . Hint: No other team's starting safety had a perfect SAT score in the SEC. Why has Vandy been unable to have a winning football season since 1982? Because, unlike at Ole Miss, their players can read.
For three years Ole Miss tried unsuccessfully to enroll Jerrell Powe, a 330-pound beast ranked among the Top 5 defensive tackles in the country. There was just one problem with the idea of him taking college classes, best illuminated by his mother: "Jerrell really is a good child," she said. "He just can't read."
Further explanation: "While a Florida recruit with a 3.0 GPA only has to score 620 on his SATs, Vandy's must measure up to something closer to the 3.5/1300 minimums it requires of all applicants, even the ones who can't pancake a 300-pound lineman. And those select athletes don't always make their way to Nashville." All of this is essentially a prelude to invite anyone heading to this game (Vandy or South Carolina fans) to shoot me an email and come share a bunch of beers tomorrow night. Thursday night college football...it makes the weekdays disappear. Kind of.
The Grass Ceiling
[Nashville Scene]