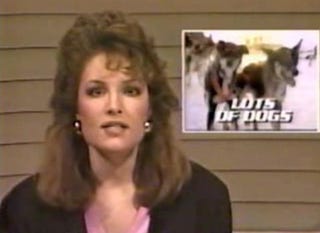 You're slipping, Republican Party. It took you four entire days to find and eradicate
the great Sarah Palin sportscaster video
from the YouTubes; the one we found and posted on Saturday to the delight of a weary world starved for young newswomen with gigantic, 1980s hair. Those were a glorious four days, when the entire family would gather around the computer screen and hug and laugh and sing. But then, from his castle in Loudoun County, Karl Rove waved a chubby finger and hundreds of flying monkeys did his bidding, seeking out and destroying all copies of the video on every sports and political blog across the land. It was a terrible purge. Run Toto, run! (Do not fear, however. Our saved version is after the jump). On a related note, I'm seeing a level of email vitriol regarding our Palin coverage that I haven't seen since, well, ever on Deadspin. Politics indeed inflames passions, I realize, but some of the hate-spewing missives that have landed in our email bin over the past couple of days have been unreal. I haven't seen the like since back when I was writing Y2K stories for the old Ironminds.com. I wrote a series of articles in late 1999 debunking the scare tactics used by unscrupulous hucksters trying to convince people that civilization was going to collapse on the first day of the year 2000. In case you've forgotten, there were people all over the fledgling Interwebs trying to sell 50-pound bags of rice and portable generators and automatic weapons and the like — my favorite was the bulletproof briefcase — promoting a Chicken Little technology doomsday scenario. These people did not like me cockblocking their profiteering, and some of their letters were downright scary. And not to take sides here, but I think that many of those same folks are now Sarah Palin supporters. Sample:
"FUCK YOU. Punk. Palin has more brains in her finger than you do in your whole body. Punk." — David Creed
And our friend Mr. Creed was not done. The following day A.J. received this:
"Fuck you punk. Take your liberal shit elsewhere punk. Palin has more intelligence in her clit then you do in your whole body punk." — David Creed
Man, that is one smart clit. Now, where did I put that bulletproof briefcase again? ...