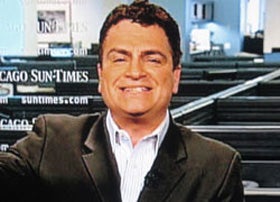 Are you a "geek with style and a passion for sports?" Jay Mariotti wants you to design his blog. At least I assume that's who is responsible for this Chicago Craigslist post which went up on Wednesday afternoon, which states a "major national sports personality website is looking for a talented webmaster/designer." Apparently all those new media job offers that Jay was weighing when he quit the Sun-Times haven't panned out as he had hoped. So he's starting his own site, by golly. Get ready to add Jay to your blogroll! From Craigslist:
WANTED GEEK WITH STYLE AND A PASSION FOR SPORTS Major national sports personality website is looking for a talented webmaster/designer. Our goal is to have the most exciting, fun, engaging website that brings sports fans to the outstanding and unique content and information that they desire. We have the resources, you have the skills to take our brand and bring it to the web in a clean, creative, easy to navigate and exciting manner. This is an in-office full-time position. Skills: You should be proficient in Photoshop, Dreamweaver, Fireworks, Flash, Streaming Audio/Video, Audio/Video On Demand, HTML,XML, CSS. Experience: 3-5 years web design, content management, preferably in a sports environment Your personality: The outstanding candidate will be eager to share an impressive portfolio of web design, examples of proactively contributing to team goals, enthusiasm for a fast paced environment and love hard work and fun!
Some items that were left out: • Candidate must be familiar with area dry cleaning locations, and be an experienced dog walker. • Be prepared to deal with violent mood swings, unreasonable requests, rants concerning airline food. • Occasional whippings. • May be required to write a column as many as three times a week. • Good grooming a must.
Sports Web Design (Chicago)
[Craigslist]